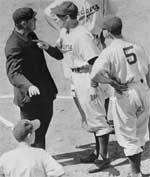 Most historians agree that professional baseball player and manager Leo Durocher never uttered the infamous words, "Nice guys finish last." The closest documentation supporting the quote is a statement Durocher made on July 7, 1946, during his tenure as the New York Giants' coach. Pointing to the opposing team, he said, "The nice guys are all over there, in seventh place, not in this dugout." It was the accompanying headline of the article that boiled down his thoughts to the oft-repeated phrase.
After years of denying the phantom quote, Durocher eventually embraced it, using it as the title of his 1975 autobiography. However, as he mellowed with age, Durocher attempted to rewrite his place in history by claiming that he was not implying that nice guys could not win. Rather, he argued that being "nice" and "winning" simply have no correlation.
Most historians do not subscribe to Mr. Durocher's revisionist history. The hot-tempered, foul-mouthed, heavy-drinking ballplayer earned the nickname "The Lip" because of his caustic tongue. He is not politely pointing out a soup stain on the umpire's tie in the above photo. Leo "The Lip" was anything but "nice." 
If you haven't already subscribed yet, subscribe now for
free weekly Infochachkie articles!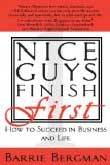 Unlike "The Lip," Barrie Bergman is a humble, self-made man who realized early in life that being nice provides a significant business advantage. Barrie, along with his lifelong wife and business partner Arlene, realized that they could attract A+ Players, have more fun and create more wealth by establishing a culture of trust and celebration. If you doubt that you can "do well by doing good," check out Time Wounds All Heels.
Barrie's story epitomizes the American Dream. When he was a child, Barrie's father was forced to declare bankruptcy. The only asset that his father retained was a small warehouse from which he sold 45-rpm records that had previously been played in jukeboxes.
From that single used record store, Barrie and Arlene grew Record Bar into the second-largest record chain in the U.S., with over 200 locations. The Bergmans sold the chain to a European conglomerate in the pre-iPod days of the 1990s for approximately $100 million, proving that timing really is everything in life, comedy and business.
A cynic might claim that the Bergmans' success had more to do with luck than the fact that they created a healthy culture in which people were able to thrive personally and professionally. That cynic would be wrong. After taking a multi-year victory lap, Barrie and Arlene purchased Bare Escentuals out of bankruptcy. They eventually turned the failing, four-store cosmetics chain into a global, public company, which generated sales in excess of $550 million in 2008.
Rather than steal all the thunder of Barrie's book by providing too many specifics, I have opted to list some of the chapter titles below. As you can see from this list, the book is pleasingly humorous and irreverent.
We'll Get Rich A Few Days Later: Adhering to ethics
Greed Is NOT Good: Screwing people over for the love of money
License To Kill: Fighting the urge to do whatever it takes
Don't Defecate Where You Live: Creating a fun place to work
357 Magnum-Style Management: Managing by intimidation
Firing Someone Is Never Easy: Procrastinating only makes it harder
Don't Give It All At The Office: Having a life outside the workplace
Boy Was I Dumb And Boy Did I Get Smart: How I almost bankrupted the company
As noted in Why Most Business Books Suck, I am usually frustrated by books written by successful business executives. Such egocentric business tomes are usually dreadfully boorish and self-serving. Not so with Barrie's book. Barrie avoids this common pitfall by his willingness to laugh at himself and freely admit his mistakes. In this regard, he displays the Humble Pride common to so many successful serial entrepreneurs.
In addition to sharing his business wisdom, Barrie also treats the reader to some of his behind-the-scenes interactions with a number of celebrities. Barrie freely admits that he remained star-struck throughout his career, despite the fact that he met nearly every major musical artist from the mid-1960s through the late 1980s. Spoiler Alert: George Harrison was the nicest of all the rock-n-rollers.    
If you are looking for an anecdotal business book, filled with straightforward and enlightening observations, Nice Guys Finish First may be for you. However, before you pick up the book, I want to forewarn you, using Barrie's own words from the book's Prologue: "I expect that what I have to say will piss off some people. If it doesn't, I'll be disappointed."
If Leo Durocher had read Barrie's book, he may have gotten pissed, but at least he could have avoided spending the final decades of his life attempting to rehabilitate his reputation.
— Get hands-on advice from your John Greathouse, Subscribe Today. —
<
Copyright © 2007-9 by J. Meredith Publishing. All rights reserved.
Share and Enjoy