Note: This is part II of a two part series. Click HERE for part I.
"Never tell people how to do things. Tell them what to do and they will surprise you with their ingenuity." George S. Patton, US Army General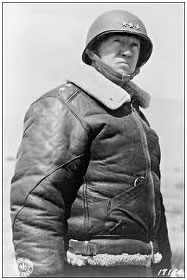 Part I of this series describes the 360-review that I conducted at a growing, dynamic SaaS business which has recently graduated from the startup stage and entered the early-growth phase. One of the most compelling conclusions I drew from the reviews is that both Founders need to delegate more of their day-to-day tasks.
The Founders are in the midst of a classic shift from a bottle-washer mentality in which they oversee every initiative, to one in which they only focus their efforts on tasks that have the biggest impact, while delegating urgent but less important duties.
Fortunately, the Founders are comfortable delegating tasks to their highly talented Core Team. The challenge was to identify which tasks to retain and which were best suited for delegation.
Following the 360-review, we devised an effective way to help the Founders expand their strategic effectiveness while ensuring that all of their prior responsibilities are appropriately fulfilled.  
If you haven't already subscribed yet, subscribe now for free weekly Infochachkie articles!
Finding Founder Time
In this particular 360-review, the subordinates' feedback indicated that the Founders needed to adjust their tasks to be less tactical and more strategic. In order to help the Founders in this process, I asked them to identify the Dirty Dozen tasks to which they consistently allotted most of their time. I then requested that they chart these duties, based on their relative desire to perform each task, along with their competency to do so, as shown below: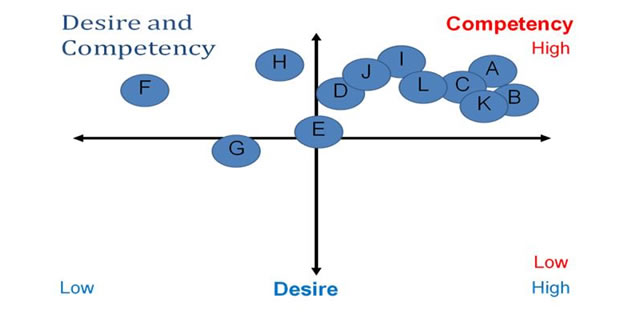 I subsequently asked the Founders to evaluate the same twelve tasks based on their urgency and near-term impact, as follows:



I then quantified each task based on each of the above criteria. For instance, in the above charts, task F represents "Manage Backend Finance System." I quantified the relative priority of this responsibility as follows:
Desire              12 least desirable for CTO to perform
Competency     12 least capable of performing this task
Urgency             7 moderately urgent
Impact              12 lowest near-term impact of all the tasks
Average            10.8
A list of the CTO's dozen most time-consumptive tasks is shown below. The lower the average score, the greater the importance attributed to it by the Founder.
Note: the task descriptions have been modified for confidentiality purposes
| | | | | | | |
| --- | --- | --- | --- | --- | --- | --- |
| | Desire | Competency | Urgency | Impact | Avg | Rank |
| I = Technical  Customer Calls | 6 | 1 | 2 | 1 | 2.5 | O/S |
| A = Product Strategy | 2 | 3 | 7 | 2 | 3.5 | Tier 1 |
| L = Internally Communicating Roadmap | 5 | 5 | 5 | 3 | 4.5 | O/S |
| D = Overseeing Product/Feature Stories | 8 | 8 | 1 | 4 | 5.3 | O/S |
| C = Product Coding | 4 | 6 | 8 | 6 | 6.0 | Tier 2 |
| J = External Technical Company Voice | 7 | 4 | 6 | 7 | 6.0 | Tier 1 |
| H = Technology Partners Integration | 10 | 2 | 4 | 9 | 6.3 | Tier 2 |
| E = User Interface/User Experience | 9 | 11 | 3 | 5 | 7.0 | O/S |
| B = New Technology Evaluation | 1 | 9 | 9 | 11 | 7.5 | Tier 2 |
| K = Time to Innovate/Incubate New Ideas | 3 | 10 | 11 | 10 | 8.5 | Tier 1 |
| G = Oversee Client Services | 11 | 12 | 10 | 8 | 10.3 | O/S |
| F = Manage Backend Finance System | 12 | 7 | 12 | 12 | 10.8 | O/S |
I next sorted the tasks by their average score, which proved very enlightening. The blended scores served as an effective way to rank each task and highlighted the implicit priorities which the Founders attributed to each of their most time-consuming tasks.  
As a final step, I layered in the subordinates' thoughts by reviewing the tasks with the Core Team and asking them to place the duties into three categories: Tier I – highest priority, must be done by the Founder; Tier II – lower priority, but still important enough to be done by the Founder; and Outsource – someone else (inside or outside of the organization) should perform the tasks, noted by "O/S" in the above table. The Founders were present during this discussion, but they did not influence the prioritization process.
For instance, in the above chart, sitting in on "Technical Customer Calls," was highly rated by the Founder, but deemed by the Core Team to be a duty that the CTO could effectively delegate. Everyone agreed that some time spent on such calls was worthwhile, but that it did not merit a top priority ranking, when compared to the CTO's other duties.
Reviewing the Founders' Dirty Dozen responsibilities in a group setting afforded the Core Team with insight into the Founders' time management priorities and provided actionable feedback which significantly helped the Founders reallocate their workload. 
Do Over
The 360-review process was imperfect. I could have executed it far more efficiently. Below are a few mistakes I will not replicate when I conduct this process for a future portfolio company.
Fewer Questions – I sought feedback on a total of twenty nine questions. I should have consolidated some of the questions and eliminated others outright.
Fewer Reviewers – I interviewed six members of the company's Core Team, which tied up a lot of valuable time that could have been spent in other potentially more productive ways. 
Less Feedback – it may sound counter-intuitive, but I probably compiled too much data. The scope of my review encompassed a total of 174 responses, as a number of questions involved multiple replies (e.g., "List the three most positive aspects of the company's culture"). I found it challenging to objectively summarize the voluminous information I had gathered.
Fewer Reviews – I reviewed two Founders at the same time, which resulted in some confusion and redundancy in the responses. For instance, some questions on the CTO's review were answered by citing some of the CEO's actions and vice versa.
A Good Plan
"A good plan violently executed now is better than a perfect plan executed next week."
George S. Patton, US Army General
As made clear by the number of my Do Over citations, this 360-review was imperfect. However, the plan which we derived was "good" and will make a real impact on the Founders' effectiveness.
The (Non)sense Of Entitlement describes the temperament required for successful entrepreneurs to leverage performance feedback. General Patton may have been an effective military leader, but he clearly lacked the Humble Pride that is necessary for entrepreneurs to objectively evaluate constructive criticism and improve their performance. Mr. Patton would have undoubtedly benefitted from an effective 360-review.
Share and Enjoy