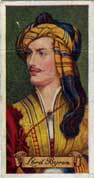 It actually was a "dark and stormy night" on June 17, 1816, when the poet Lord Byron invited each of his houseguests to tell the scariest impromptu ghost story they could think of while sipping cocktails around his fireplace.
Lord Byron's bold challenge, combined with a supportive environment and the significant talent of the participants, resulted in two of Western literature's most enduring gothic horror creatures.
Understanding how you can emulate the cooperative, yet competitive atmosphere created by Lord Bryon will help you foster a team of A+ Players.
If you haven't seen John Greathouse talk about
The Three C's of Wealth Creation
you can still watch it now!
Most students of business have heard the business cliché that entrepreneurs should "hire A Players because A Players hire other A Players, while B Players hire C Players." However, rather than simply focusing on hiring "A Players," entrepreneurs should identify and recruit individuals who can play an "A" game, while simultaneously fostering enhanced results in others. Such "A+ Players" are proficient individual contributors while simultaneously raising the collective output of their adVenture teammates.
Sports are fertile ground for A+ Players, where they are often referred to as "team players" because their presence enhances their team's overall performance. Such individuals readily sacrifice their individual results for the team's collective good. In basketball, soccer, hockey and volleyball, such players pass the ball to an open teammate, rather than taking a difficult shot.
Sports are also rife with A- Players. Such talented individuals generate impressive personal accomplishments but often diminish the team's overall ability to win. Reggie Jackson is a classic example of an A- professional baseball player. Upon being traded to the New York Yankees, he infamously said, "This team, it all flows from me. I'm the straw that stirs the drink." Although the Yankees won the World Series the first two years after Jackson joined the team, his career in New York was inconsistent and tumultuous. He was often the catalyst of dissension on a team described by Time magazine as, "High-powered and high-salaried, they are as disputatious, selfish, and disdainful of each other as they are talented – a galaxy of stars, singularly burning with a hard, cold light." Winning in life, business and sports, is determined by more than the score at the end of the game. A team comprising A- Players may have more points at the end of the game than their opponents, but they are seldom "winners."
As noted in (Non)Sense Of Entitlement, successful entrepreneurs need talent, tenacity and a Humble Pride temperament to succeed. A- Players generally rely solely on their talents. A high-priced team comprised of A- Players who are unable to augment the performance of their teammates will often lose against a moderately talented, highly motivated team that includes a few key A+ players.
For instance, when Free Agency rules became the norm in professional sports during the early 1970s, some pundits decried the end of athletics, as they prophesized that large-market teams would purchase the most talented players and thus make it impossible for smaller market teams to compete. Although large cities do have a decided advantage and salary caps have been put in place in many sports to limit an owner's ability to "purchase" a winning team, a number of teams with far smaller payrolls have successfully won championships during the past thirty years in all major professional sports. Such teams always have at least one A+ Player who unselfishly subsumes the pursuit of their own personal gain to contribute to the team's betterment.
Rising Talent Lifts All Players
A proficient tennis player has a difficult time performing at the top of his or her game when faced with a mediocre opponent. The same is true within an adVenture, where the quality of competition often dictates the overall level of the team's performance. A healthy dose of cooperative competition, or coopertition, among your adVenture's team members will encourage everyone to push the limits of their individual potential.
We Can Work It Out
The songwriting partnership of John Lennon and Paul McCartney is a classic example of "coopertition." While both members of the Beatles, John and Paul largely wrote their songs individually, although they shared song-writing credits. Irrespective of who actually wrote a particular song, each artist received equal credit. Such shared credit reduces the potential ill will that can arise when rivalries are encouraged within a team.
As John Lennon noted after the band's breakup, "…there was a little competition between Paul and I as to who got the A-side – who got the hits." When this vital combination of competition and cooperation was missing after the band's demise, neither songwriter's output was consistent or as widely acclaimed.
Competitive, Collaborative Inklings
Another example of healthy competition is that between C.S. Lewis and J.R.R. Tolkien. They initially met each Monday morning to drink beer (this is not a typo – these guys were professors, so they could get away with drinking in the morning…) and critique each other's literary work. Over time, other writers joined Lewis and Tolkien and the group eventually came to be known as the Inklings.
At each weekly meeting, a member would read a recent work to the group, who would offer a harsh critique if they felt the author was falling short of his potential. According to Diana Glyer in her book The Company They Keep: C.S. Lewis and J.R.R. Tolkien as Writers in Community, "…as they met throughout the 1930s and 40s, extraordinary things began to happen. They generated enormous creative energy. They forged strong personal connections. And together, they helped bring to light some of the greatest literary works of this past century."
Lewis was the Inkling's ostensible leader. His primary role was to encourage the supportive environment which promoted a healthy level of coopertition. If anyone's criticism became too pointed, he modulated the critique, often using his wry humor. Balancing the competitive and collaborative aspects of such an environment is the key to maximizing the A+ Players' effectiveness.
Setting The Stage
In addition to being supportive yet competitive, the most significant environmental factors that must be present in order for A+ Players to impact an organization include:
Managed Tension – As noted in The Tribe, the Tribal Leader or CEO's primary job is to maintain harmony within the group. However, such harmony should not come at the expense of eliminating coopertition. Properly managed, rivalries among talented teammates can enhance the group's overall performance. Poorly managed, such tension can turn a team into a disparate group of dissenting individuals.
Take, for instance, the typical all-star bands that often play an encore together at the conclusion of large benefit shows. Although the individual members are vastly talented, the "music" they create is generally horrific. There are only so many successive five-minute guitar solos that the average music lover can endure.
Shared Credit – As in the case of Lennon & McCartney, the potential destructive impact of internal rivalries can be modulated by emphasizing group recognition over individual acknowledgments.
Shared Goals – As noted in Turn Of The Screw, performance-based compensation should ideally be based on a combination of individual and company-wide goals. For instance, a salesperson's compensation might be based on their individual sales performance, as well as the company's overall profitability. The collective goal will encourage the salesperson to avoid discounts and minimize expenses, both of which would negatively impact the company's overall profits. Such shared goals help bind the team together and encourage cooperation, thus offsetting the natural friction caused by internal competition.
Cross-functional Teams – As described in Dirty Team Building, teams comprising members from an organization's various functional departments, such as accounting, engineering, marketing, sales, etc., will help deter an "us versus them" mentality which could otherwise arise from coopertition.
Ego Checking – Jamal Hamdani, the Founder of Moseley Associates, a wireless infrastructure company, once took a large sign with "ME" printed on it, turned it backwards and upside down, to spell "WE". He hung the sign in a prominent location to remind his employees of the importance of subverting one's personal goals for the collective good.
Record Producer Quincy Jones also understood the importance of ego management to a team's overall performance. When recording the 1985 famine relief song "We Are The World," Quincy assembled a significant number of the most successful musical acts of the day. In order to ensure that the collective good would be served, he taped a simple, handwritten sign to the studio entrance which read, "Check your ego at the door." This simple message helped focus the team on their collective goal of raising money for Ethiopia and quell potential personality conflicts.
Even within this ostensibly egalitarian environment, the recording session was not without constructive conflict. At one point, Stevie Wonder adamantly suggested that Swahili lyrics be added to the song, until it was pointed out to him that Ethiopians do not speak Swahili. In addition, several members of the group insisted that the nonsense line "Sha-lim sha-lingay" be changed to something meaningful. After a spirited debate, the group eventually agreed upon the phrase "One world, our children."
Later in the session, some of the rock singers complained about the inclusion of "uncool" pop stars in the session and threatened to walk out if the pop stars were not asked to leave. At this critical juncture, Bruce Springsteen played the role of an A+ Player by declaring, "I don't care who is here to record this track, I'm here to help save lives." The rockers were suitably shamed and kept subsequent egocentric thoughts to themselves. The song went on to become a number-one hit in 15 countries.
Honest, Constructive Critiques – In order to bring out the best in a team, A+ Players must provide honest feedback that is often painful to hear. Such feedback is only effective if it is given with the intent of enhancing the team's overall performance. The team leader(s) must maintain this precarious balance between constructive and destructive critiques, much as C.S. Lewis was able to do within the Inklings.
Celebrate Collaboration – Significant acts of collaboration should be heralded and publicly rewarded. Your team should be willing to "feed" each other, as the individuals in the Long Spoon parable described in Do They Believe?
Monster Mash
What monsters arose from the coopertition encouraged by Lord Byron? Lord Ruthen was the primary character in The Vampyre, a thinly veiled caricature of Lord Byron written by his personal physician John Polidori. Lord Ruthen was literature's first characterization of a vampire, published over 80 years before Bram Stoker's Dracula. The other infamous monster to arise from Lord Byron's contest, Frankenstein, was created by Mary Godwin (later Shelley), an 18-year-old with no prior literary experience.
By bringing together talented individuals and encouraging a cooperative yet competitive environment, Lord Byron was able to turn a dark and stormy night into an entertaining evening, which subsequently had a profound impact Western literature. You can have a similar impact on your adVenture by encouraging coopertition among your A+ Players, which, if properly managed, will enhance your entire team's performance.
—
<
Copyright © 2007-9 by J. Meredith Publishing.
All rights reserved.
Share and Enjoy