Note: This is the fourth installment of an ongoing Guerilla Marketing series. The other installments address:
1)  FUEL's use of faux Monks dominates the social consciousness of a major media tradeshow
2) TestFlight's clever distribution of free meals garners Steve Jobs' attention
3) Social Stay's failed attempt to utilize parcours to liven up a hospitality tradeshow nearly lands them in jail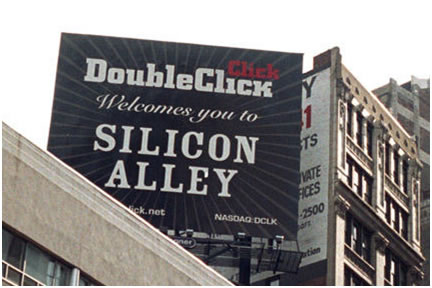 Before it became a monolithic, multi-billion dollar organization, DoubleClick was a wily, nimble startup. In those early days, the DoubleClick team used a variety of guerilla marketing tactics to rise above the chaos endemic in the online ad world during the Internet's nascent evolution.

If you haven't already subscribed yet, subscribe now for
free weekly Infochachkie articles!
Guerilla marketing is especially effective when the attention getting tactic underscores the company's vision and value proposition. In the case of TestFlight, by giving developers at an Apple tradeshow breakfast, they reinforced their company's mission to:  "reduce app developers' headaches."
In the accompanying video, DoubleClick's Co-Founder and former Chairman and CEO, Kevin O'Connor, describes two of his favorite marketing exploits from DoubleClick's early days. Kevin's first example demonstrates the impact of an unconventional marketing antic which highlights a company's core competency.
As Kevin describes below, DoubleClick crafted a clever way to communicate its ability to target ads to a particularly unresponsive prospect.
"At DoubleClick, we had the ability to target on domains. We were pitching this one agency, Modem Media, and we were having a tough time getting their attention.
G.M. O'Connell, who was their CEO, had just had twins. So we targeted Modem Media with ads that said, 'Congratulations Jim on your twins.'
No matter where anyone at Modem Media went on the Internet, they would see these ads. It looked like we had bought-out every (online) billboard on the planet. They didn't realize we could target so specifically. It was cool. Their whole agency was talking. They sent it around to all their friends at different agencies, (but) they couldn't see it and they couldn't understand – we can't see the ad, how come? So that was cool, it really emphasized how we could target ads."
You can watch my 2-minute discussion with Kevin, below or on YouTube here: http://youtu.be/ljPJrQUSJko
The other DoubleClick marketing coup which Kevin describes in our video discussion was relatively economical, yet it drove priceless, world-wide publicity for the firm. According to Kevin:
"People kept coming to New York, where DoubleClick was headquartered and people would always ask, 'We would like to go to Silicon Alley, tell us where to go.'
Our marketing guy, Lee Nadler, said, 'Hey, we'll claim our neighborhood as Silicon Alley.' He bought this big billboard that said, 'DoubleClick Welcomes You To Silicon Alley' It was the only picture you could take of Silicon Alley so every magazine, every newspaper would take pictures of this billboard."
Message Management
By proclaiming the existence of a place that did not exist, DoubleClick satisfied the journalists' need to provide visual substantiation of articles which described New York as the East Coast equivalent to Silicon Valley. More importantly, the billboard playfully reinforced the company's reputation as a creative and clever new media thought leader. As the current Co-Founder and CEO of FindThe Best, I have no doubt that we have not heard the last of Kevin's crafty marketing schemes.
As I describe in Thrill The Messenger, entrepreneurs often must spoon feed their marketing messages to media gatekeepers. The best way to control your message is to provide it to the gatekeepers in a manner that will limit their ability to dilute or misdirect it. Because DoubleClick's billboard was effectively an image, its message was delivered unadulterated. Brilliant!
Share and Enjoy