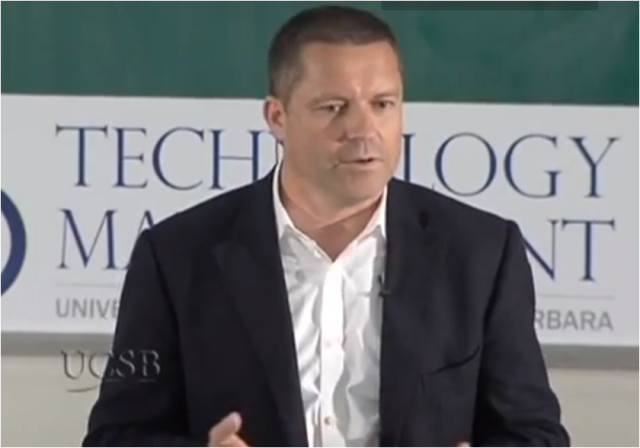 A version of this article previously appeared on Forbes.
As part, of UC Santa Barbara's Distinguished Lecture Series, Eucalyptus Systems' CEO, Marten Mickos shared his insights and advice regarding what it takes to be a serially successful entrepreneur.
Marten has enjoyed a celebrated entrepreneurial career. As an early executive at MySQL, he helped build the company into the world's most used open source database. MySQL was eventually acquired by Sun Microsystems for $1 billion.
If you haven't already subscribed yet,
subscribe now for free weekly Infochachkie articles!

You can watch an 11-minute excerpt from Marten's talk below or view it directly on YouTube here: http://youtu.be/gcHdL_fWfHU  Note: I am a micro-Angel investor in Eucalyptus.
Success 101
For Marten, self-deprecation comes naturally. Early in his talk he demystified success, noting that, "I am (a) serially unsuccessful entrepreneur. MatchON Sports it was one of the biggest dot com companies in Finland and it went straight ( into) the wall and went bankrupt. Which in Scandinavia that's not a good thing because bankruptcy does not correlate well with your career possibilities."
I think entrepreneurship is ordinary people doing extraordinary things. We are all just normal, regular people. Everyone has lots and lots of weaknesses. Becoming a successful entrepreneur isn't... about your skills or your abilities or your DNA, it's about what you refuse to give up on - what you will keep doing until you succeed.
Marten continues by acknowledging that when he was young, he idolized business leaders and assumed they must have skills and knowledge beyond the norm. Having now met business leaders all over the globe, he knows firsthand that, "There are no perfect human beings anywhere on the planet, although we sometimes think so. We look up at these iconic business leaders and we just think they get everything right, but they don't. They make mistakes all the time."
Learning To Be An Entrepreneur
I believe that entrepreneurship is inherent. Thus, in my courses, I strive to teach entrepreneurs, rather than attempting to train someone to become an entrepreneur. Marten disagrees with my supposition, stating that, "You can learn to be an entrepreneur. I did it only for the excitement. I never really planned my career. I never thought about becoming a distinguished businessman. I just did things that were fun with people I enjoyed working with."
Marten goes on to tell the students that attributes they may think of as weaknesses now may ultimately prove to be strengths when they enter the startup world. "When I was a young kid I was very stubborn. I thought it was my problem. But now in business, I realize that's my strength. Like Albert Einstein said, it's not that I'm smarter, it's that I stay with the problems longer. So what was a hindrance for me as a kid turned out to be a strength."
Mr. Mickos encourages young entrepreneurs to embrace their weaknesses to ensure they fully appreciate and acknowledge them. Marten underscored this point by recalling that, "Peter Drucker said, 'The purpose of management is to make individual weaknesses irrelevant.' We all have weaknesses and we must build teams where these weaknesses become irrelevant. You must hire people who are different from you, who have the strengths you lack. You must have the courage to admit to them (your team) that you have that weakness. If you admit it, you will have others helping you. They don't mind helping you because they need help where they are weak."
Specific personality traits are seldom always weaknesses. For instance, a proclivity toward action will be helpful in some situations and harmful in others. Thus, another benefit of an honest, introspective self-assessment is that you become comfortable with your perceived weaknesses by knowing they are detrimental versus beneficial.
In Marten's case, he struggled early in his career with his tendency toward naivety. In his words, "I used to be naive... when I was young. I made all these mistakes. I couldn't protect myself against bad outcomes. But at the same time, because I am so naive, I can think about big visions and big things happening in the future because I am not limited by too much critical thinking. So (your weaknesses) can be turned into a strength, if you acknowledge it with yourself."
Sticktoitness
As the business sage Babe Ruth once said, "You just can't beat the person who won't give up." At Rincon Venture Partners, one of the factors we value most in an entrepreneurial team is their tenacity. We appreciate that the path to success is seldom linear and usually involves dire challenges and unforeseen dark days.
Overnight successes, whether in business, entertainment, science or athletics always require years of hard work. Thus, anyone not willing to work a whole lot of nights and days is unlikely to create significant value.
Marten echoes this sentiment by telling the audience of young entrepreneurs, "If you just stick to your problems long enough, you can do anything you like. Spend 10,000 hours at something and you will become an expert. Most of us have to work hard to get there. If you just stick to the problems, you can do anything."
All I can say to that Mr. Mickos, is "Amen Brother, Amen."
If you want to watch Marten's entire talk, you can do so here: http://youtu.be/h3gCDxjxUUQ
Follow my startup-oriented Twitter feed here: @johngreathouse. I promise I will never tweet about a dog that surfs or that killer burrito I just ate.
Share and Enjoy