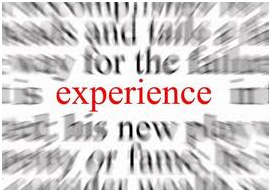 In Why Most Business Books (Still) Suck, I discuss why entrepreneurship is best learned experientially. If experiences are the best tools to foster entrepreneurial edification, a natural corollary question is, "How can you get the most out of your startup experiences?"
If you haven't already subscribed yet, subscribe now for
free weekly Infochachkie articles!
There are number of things you can do to gain the maximum benefit from your entrepreneurial experiences, including:
Self-awareness – Be honest with yourself in order to properly evaluate and maximize the value of your experiences.

Peer Group – Meet with other emerging entrepreneurs who will help you objectively evaluate your experiences and provide relevant feedback regarding your successes and failures.

Journal or Blog – Writing about your experiences will force you to be contemplative and thoughtful. It will also allow you to refer back to past experiences without risking an erroneous decision based on a false memory.

Advisor – As noted in Old Gray Advice, a mature entrepreneurial confidant can provide invaluable context and annotation to your experiences, while helping you avoid common startup pitfalls.

Post Mortem – Evaluate the causes of your startup's major successes and failures to determine what actions you should replicate in the future and what you should avoid repeating. When conducting such a self-assessment, be sure to properly attribute your successes and failures, as follows:
Internalize failures – Do not blame others for your adVenture's setbacks. If a prospect does not purchase your product, it is not because they are too stupid to understand your value proposition. It is more likely because you ineffectually matched your solution's features and benefits to the prospects needs. If you consistently blame others for your shortfalls, you will never overcome them.
Externalize success – Do not give yourself credit for your adVenture's achievements. Rather, praise your team's, partners' and other stakeholders' contributions which led to the success. This will instill a healthy corporate culture, as described more fully in Core Values, in which numerous members of your extended team can legitimately share in your adVenture's successes.
When your adVenture's journey is done, you will be left with experiences, relationships and (hopefully) a bit of wealth. Make the most of your experiences: for yourself, your adVenture and for future generations of emerging entrepreneurs. The mistakes you make tomorrow can either be quickly forgotten or serve as a valuable learning experience. The choice is yours.
______________________
John Greathouse has held a number of senior executive positions with successful startups during the past fifteen years, spearheading transactions which generated more than $350 million of shareholder value, including an IPO and a multi-hundred-million-dollar acquisition.
John is a CPA and holds an M.B.A. from the Wharton School. He is a member of the University of California at Santa Barbara's Faculty where he teaches several entrepreneurial courses.
______________________
Copyright © 2007-11 by J. Meredith Publishing. All rights reserved.
Share and Enjoy