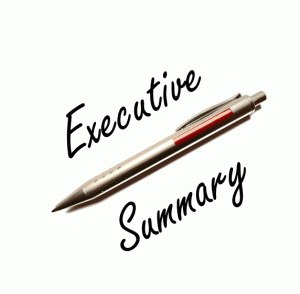 Business Plans are dead. Most sophisticated investors ignore them, focusing their attention on an entrepreneur's pitch and presentation materials, financial forecast and executive summary. As noted in Entrepreneurs Shouldn't Pitch Their Ideas To Venture Capitalists, most sophisticated investors place their bets on people rather than opportunities. As such, the primary goal of your executive summary is to open the door to an in-person meeting.
If you haven't already subscribed yet,
subscribe now for free weekly Infochachkie articles!
Entrepreneurs routinely seek my advice regarding their executive summaries. In most cases, I provide some combination of the following advice:
Brevity - Maximum length: two pages.
Visuals - Given the limited space, use images, graphs, charts and photos to tell your story; team pictures, logos, etc. work well.
5th Grade - Many entrepreneurs use overly dense, academically oriented language. As best-selling author Stephen King once said, "Any word you have to hunt for in a thesaurus is the wrong word." Most newspapers are written at a third-grade reading level, White House press releases average a fourth-grade reading level and the New York Times is easily digestible by the average fifth grader. Apply the Flesch-Kincaid Readability Test to your executive summary to ensure the average 5th grader can understand it.
Buzzkill - Overuse of buzzwords and jargon convey an entrepreneur's professional immaturity; it can also confuse a 5th grader, so use plain English.
Too Techie - Tone down emphasis on the technology underlying your venture; an interested investor will perform tech diligence at the appropriate time.
No VC Fit - Match your venture with appropriate funding source. For instance, a services business or an opportunity with limited growth potential might be a good fit for an Angel investor, but not a venture capitalist. A restaurant is a generally appropriate for a bank, but not an Angel investor.
Real World Executive Summary Template
Jeff Carmody, Co-Founder of Agility Capital and a successful institutional investor, provided me with the outline shown below. Any errors or omissions in the subtext are my own. Hopefully this straightforward format will help you avoid overly obtuse verbiage, while keeping your executive summary to two pages.
Opportunity
PAIN: what painful issue are you addressing and how extensive is the issue (e.g., paper cut vs. bleeding artery)?
The Company
SOLUTION: why your venture will not only assuage the pain, but will also make a ton of money for your investors in the process.
Market
Clearly define the addressable market for your pain reliever, which is a subset of the total number of people who are feeling the pain; the total market size is not relevant.
Product
What does your pain reliever look like, how is it implemented by the customer and what future products do you expect to roll out?
Distribution and Sales
How do you profitably get the pain reliever to the consumers experiencing the pain?
Patents and Trademarks
Describe any defensible intellectual property associated with the pain reliever.
Competition
Who else offers similar pain relief and why is yours so much better?
Management Team
Explain your team's experiences that are relevant to the success of your current venture.
Capitalization
How much money are you looking for, what will you do with it and what other funding sources (if any) do you already have secured? If a valuation has been established, what is it?
Financials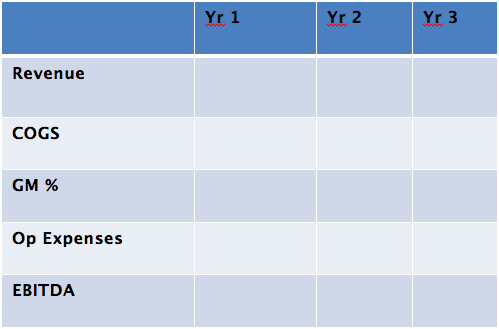 It is surprisingly simple. The combination of a meaningful introduction and a straightforward executive summary will greatly enhance your likelihood of efficiently obtaining funding on advantageous terms.
Contact
Who do I write the check to and where do I send it?
Follow my startup-oriented Twitter feed here: @johngreathouse. I promise I will never tweet you a crazy personal opinion or tell you about that killer burrito I just ate.
Photo Source: photosteve101
Share and Enjoy