Article first published as Len Short (Red)ily Discusses Google, Bono and Steve Jobs on Technorati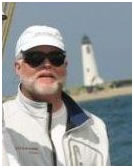 Len Short is truly an online marketing pioneer, heading up marketing at Charles Schwab, AOL and then (PRODUCT)RED. He is now leading Chug, a car buying search engine, as its Founder and CEO.
Before his career moved online, Len worked on major marketing campaigns for credit card companies and rolled out MCI's highly successful "Friends and Family" marketing campaign.

I recently caught up with Len outside of George Lucas' Skywalker Ranch. He was kind enough to conduct a video interview from his car. Fortunately, he spoke with me while he was parked and not careening down the highway. Unfortunately, his iPhone flipped his image to landscape mode. Despite this technical glitch, I opted to publish our discussion, given the high-quality content of his comments. If watching the video is too distracting, simply minimize the screen and listen to Len's insights as you would a podcast.
You can watch my interview with Len below or on YouTube here: http://youtu.be/ivJhv6g7bA0
If you haven't already subscribed yet, subscribe now for
free weekly Infochachkie articles!
Len has enjoyed an incredible online career. He was the CMO at Charles Schwab during the emergence of the online brokerage revolution, helping to guide the company's transition from a high-touch retail broker to a no-touch self-serve trading platform. After leaving Schwab, Len was recruited by AOL as its EVP of Brand at a time when the company was seeking to remain relevant, just as its dialup subscriber base was in its initial stages of decay.
Len later joined (PRODUCT)RED as its Founding CMO. In this capacity he worked with U2's Bono, as well as Steve Jobs and a number of other notable celebrities whom Len encouraged to lend their brand equity to bolster RED's cause.
Len remains an active advisor to several startups. In this regard, I asked him to share the lessons from his early days of online marketing that remain relevant to the startups he currently advises. "We're focusing now on re-disrupting categories that moved early online, but in some ways, have been freeze-dried since then. My history has always been with challenger brands, back in the credit card days and then with MCI and the phone wars, I did 'friends and family' for MCI which really changed that industry. And then with Schwab, who was just a small, discount broker when I joined them and we rose to dominant market share in three categories in brokerage.
So I have always liked the underdog who changes what's embedded in a category to the advantage of the consumer. We're focusing now on some search products…where we think there is a long way to go. It is kind of rabbit-ear television. Even though we are all impressed with the Internet, I think it is black-and-white and just a couple of channels.
I have seen it happen over and over again, especially in these categories where people just felt like, 'Well, they are too big and nothing will ever change.' Guess what, it changes completely. That has been the theme in my lifetime and I think it will just accelerate from here."
Given Len's affinity for underdogs tackling huge markets, it is not surprising that he would found Chug, a search-oriented startup that is competing with Google. "So much power has ended up in Google's search box. 350-million Americans enter the same long-string search term and get pretty much the same results and that just can't last… because we're very diverse. When I enter 'Rome Hotel', that's a very different query than when my Partner Sergey enters 'Rome Hotel.' I don't want to stay in the hotel he is going to and he's not going to stay in the one I'm going to.
There is great room for improvement in terms of… putting the control back in the hand of the consumer. Basically Google is a TV without a remote control. They are in control. Our focus has been letting the consumer to take control of their search through their own embedded associations. So much power consolidated in one place smells to me as an opportunity. You're sort of David against these big Goliaths, but I have seen it work over and over again."
Earlier in his career, Len worked at NW Ayer where he focused much of his attention on non-profits. Fast-forward a decade and he was the CMO at (PRODUCT)RED. Giving back is clearly in Len's DNA. He shared the following advice for emerging entrepreneurs who have limited time and money but an unlimited passion to give back philanthropically. "With Red, Africa wasn't my cause. It was Bono's cause and Bobby Shriver's cause. I found an opportunity to take some unique skills that I had (and) to apply them to that model. I invested two years of my life…and it became my cause. The most important things people can give are their talents and innovation. So as an entrepreneur, (talent) is the most valuable currency.
Bono said, 'Well, OK. I understand your plan but I want a friend of mine who is a marketing guy to vet your plan,' and I said, 'Oh yeah, who's that?' and he said, 'Steve Jobs.' Steve was amazingly helpful and supportive.
RED… is a for-profit endeavor, the profits just go to Africans, not to anybody else. It has made and distributed over $180 million in profits that have all gone…to buy ARVs (antiretroviral drugs). Look at your talents and see what they can lend. Later on give your money away."
(PRODUCT)RED continues to be immensely successful, having directly impacted the lives of over 7.5 million people. The organization is on track to make the children born in 2015 the first AIDS free generation in decades. Given RED's immense marketing impact, I asked Len what he would do differently, if he were launching the project today. "If I did it again, I'd be even more adamant about staffing it and creating a culture of relentless, hard-nosed focus on creating results. That goes for pretty much any enterprise and certainly a cause should have the same hard-nosed approach that business does. That was our going-in proposition."
In addition to its Co-Founder, Bono, (PRODUCT)RED enlisted the support of a number of notable personalities. Due to Rincon Venture Partners' focus on sourcing deals within the Southern California ecosystem, we often see deals in which one or more celebrities are involved. From an investor's standpoint, we view this as a mixed blessing. Even so, I found Len's counsel regarding how to appropriately manage and maximize an organization's relationship with high-profile celebrities to be a bit surprising. "Celebrities are tricky. I think it is borrowed equity. Essentially a successful entrepreneur will always be purely driven by a vision. They won't let distractions or shortcuts distract them. It's easy to talk yourself into, 'So and so is interested and it will help me.' I am not sure it ever does, unless there is a natural connection. The same rule applies, borrowed equity isn't yours.
I can't really think of a great case history where a celebrity has really driven a startup. Other than RED, I mean Bono, I wouldn't call him a celebrity, he's a force of nature."
Share and Enjoy