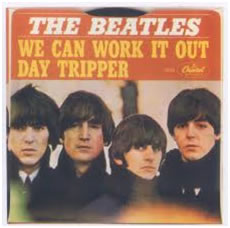 With a few exceptions at the end of their career, the Beatles did not include songs that had previously been released as a single on their UK albums. According to George Martin, The Beatles' Producer, "At the time, I didn't want to shortchange the public. Assuming the fans had bought the single, I figured they wouldn't want to hear it again on the album."
Although this approach was common in the UK, it ran counter to the then current Conventional Wisdom in the US music industry. However, by the release of Sgt. Pepper, the Beatles had gained complete control over their creative works in the US and curtailed Capital Records' prior practice of including singles on US albums.
This tactic provided the Beatles with a strategic advantage over American musicians, as fans knew that if they purchased a particular single, they would not have to pay for it again on a subsequent album. In essence, the Beatles offered a product with a higher value proposition as compared to their American counterparts.
If you haven't already subscribed yet, subscribe now for
free weekly Infochachkie articles!
Double Your A-Sides
In addition to not including previously released singles on their albums, the Beatles further enhanced their value proposition by creating the Double A-side single, in which both songs were hits in their own right. The Beatles introduce the first Double A-side single in 1965, with the release of Day Tripper and We Can Work It Out. The Beatles went on to repeat this phenomenon twenty six times, in which both sides of a single entered Billboard's Hot 100.
This strategy was unprecedented. In the succeeding 40-years, only a handful of artists have emulated this approach.
Minimally Viable Product Does Not Mean Minimal Utility
Much has been written regarding the benefits of crafting a minimally viable product (MVP) as a means of accelerating the product validation process. An MVP is defined as the initial product iteration that has the ideal number of features to ensure it will be easy to use, while still providing adequate utility to the end user. A common mistake when deploying this approach is to release a product which misses the narrow MVP range and is either not sufficiently viable or is not easy to use. Such a non-minimally viable product tarnishes the product's brand and adds friction to the product validation process.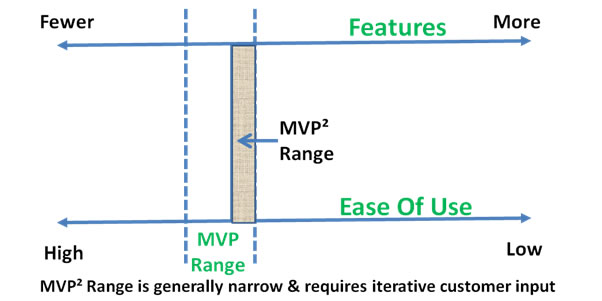 As discussed in What Color Are Your Elephant's Sunglasses?, when we initially released GoToMyPC, we struggled to balance the product's minimal feature set with its overall utility. We debated the merits of releasing two products, one at a lower price with fewer features, but we ultimately decided that the value proposition of the cheaper version was so minimal that it would potentially damage the GoToMyPC brand.
The key to launching a successful MVP is to properly define "minimal." If Mark Twain had been a technologist, he might have revised his famous quote to say, "If I had more time, I would have included fewer features." In other words, it often takes longer to adequately determine the ideal number of features, rather than simply cramming as many features as possible into a product's initial iteration. Force yourself to slow down long enough to understand the features that must be in the product's initial iteration to achieve a sufficient level of utility and which features can be included in subsequent releases.
MVP² = Minimally Viable Product With The Maximum Value Prop
As shown in the chart below, an MVP² product arises when the following characteristics are present:
Fast Time To Market – The product development cycle is relatively short and mature distribution channels are readily accessible.
Utility – The product's value proposition is readily apparent, does not require a significant change in users' behavior and is meaningful enough to overcome the natural inertia associated with anything new.
Easy To Use – The product is intuitive: the average target market user can access the product's full utility without training.
To facilitate a successful product rollout, balance ease of use and clarity of positioning with enough utility to elicit the intended reaction from your target user. Do this by ensuring that the definitions of sufficient and minimal are congruent in the minds of your intended users. If minimal does not equal sufficient, you will need to add more features / complexity / utility, which may require you to reassess your go-to-market strategy. For instance, a more complicated feature-rich product might require a hands-on sales approach carried out by enterprise salespeople, as opposed to a simple product that can be sold online.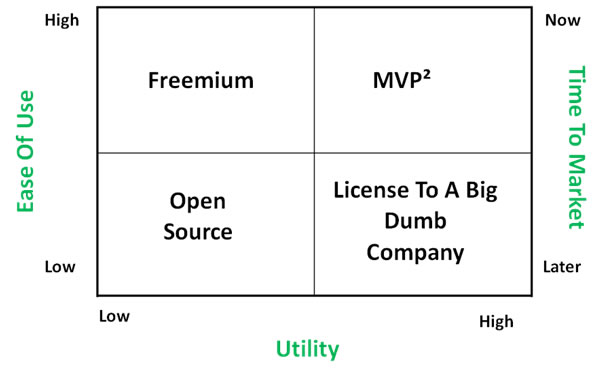 Even if your product can be developed quickly, market penetration might be delayed if missionary sales tactics are required to properly educate users regarding the product's utility. In such cases, a Freemium solution might be the appropriate initial market foray. To learn how to not launch a Freemium solution, see Making Freemium Customers Pay.
A Valuable Brand
Growing up in working-class families, the Beatles wanted to provide their fans with as much value as possible. While other artists included throwaway songs on the flip side of their singles and then put all their previously released singles on their albums, the Beatles provided maximum value to their customers with each of their releases. However, the Beatles also had to be objective arbiters of their creative output, releasing only those songs which were the most impactful and provided fans with the greatest entertainment utility.
Follow the Beatles' lead. Deliver the maximum utility to your customers, balanced by your product's complexity and the time required to get it to market.
______________________
John Greathouse has held a number of senior executive positions with successful startups during the past fifteen years, spearheading transactions which generated more than $350 million of shareholder value, including an IPO and a multi-hundred-million-dollar acquisition.
John is a CPA and holds an M.B.A. from the Wharton School. He is a member of the University of California at Santa Barbara's Faculty where he teaches several entrepreneurial courses.
______________________
Copyright © 2007-11 by J. Meredith Publishing. All rights reserved.
Share and Enjoy