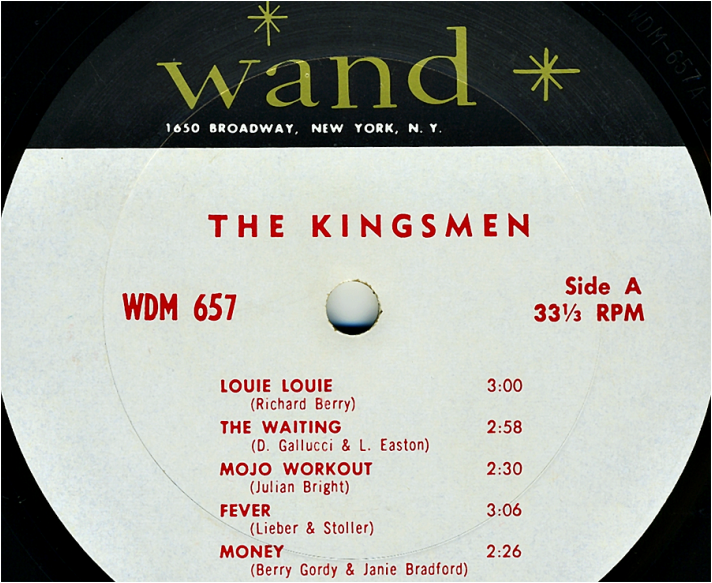 This article previously appeared in Forbes.
If Steve Blank and Eric Reis, two of the Founding Fathers of the Lean Startup Movement formed a band, they would produce music like the Kingsmen's Louie, Louie.
The song is akin to a lean startup's minimally viable product (MVP). In less than an hour and at the cost of $50, the Kingsmen created an international hit and established garage rock as a mainstream musical genre.
If you haven't already subscribed yet,
subscribe now for free weekly Infochachkie articles!
Lean Music
Lean startups validate their business model by quickly iterating and assessing potential customers' feedback. As Steve Blank told me in THIS interview, "We now know… that startups search for a business model. My definition of a startup is, 'a temporary organization designed to search for a repeatable and scalable business model.' If you find one, you become a company. If you don't find one, you become an ex-company."
The Kingsmen stumbled upon a scalable business model when they recorded Louie, Louie. The circumstances associated with the creation of this record are analogous to the attributes of a successful lean startup, including:
1. Market Tested - The night before their recording date, the Kingsmen performed the song for an hour and a half (yes, a 90-minute version of the song) at a small club. This field test with their target market solidified the band's desire to record and release the song.
2. Fast & Economical - The record was created in one take, at a cost of $50. In a similar manner, lean startups must rapidly and cheaply develop minimally viable products and quickly assess the merit of their underlying value propositions.
3. Improvisation - During the recording, the Kingsmen's lead singer completely blows the take by coming in too early and stopping in midsentence. Rather than breaking down, the drummer adds a timely drum fill, which gave the rest of the band time to catch up and complete the verse in unison. This "error" lends charm to the song and has become the industry standard, repeated by nearly every subsequent cover version.
Lean startups have to exhibit a similar degree of flexibility while reacting to unforeseen mistakes and dynamic market conditions.
4. Buzz - Louie, Louie's lyrics were so difficult to decipher that the FBI conducted a 31-month investigation, concluding they were, "unable to interpret any of the wording in the record." Despite the government's failure to declare the record obscene, the song was banned by numerous radio stations. The media attention surrounding the allegedly naughty lyrics caused millions of teenagers to seek out the record.
Lean startups must similarly leverage free promotion, as they seldom have adequate capital to outspend their competitors and cut through the ever-present market "noise."
5. Experts Were Wrong - The song's big break was the result of an unintended consequence. After initially selling about 500 copies, a Boston DJ played Louie, Louie as the "Worst Record Of The Week." This derisive airing unexpectedly spawned requests from callers to play the song again. In a matter of weeks, Louie, Louie a regional hit.
Lean startups often need to ignore the wisdom of industry experts. In many cases, an expert's legacy knowledge makes it difficult for them to accurately assess an innovative technology's potential impact.
6. (Authentic) Better Funded Competitor Lost - Paul Revere and the Raiders recorded and released Louie, Louie within days of the Kingsmen. It was well produced (for its time), the lyrics were clear and there were no mistakes. The Raiders' version of the song was distributed by Columbia records, whose heavy promotion caused it to chart on the West Coast. However, sales plummeted once the popularity of the Kingsmen's single spread from Boston, eventually becoming a national hit.
Lean startups must often defeat established competitors which are better funded and have established customer bases. Superior products, economically delivered to an appropriate target market, are effectives weapons against such incumbents.
Doomed Product Development
Like the Kingsmen, id Software was an effective lean startup. Its first game, Wolfenstein 3-D, was created at a cost of approximately $25,000. The game ultimately generated over $24 million. id's next game, DOOM, was created by a slightly larger team of approximately a dozen engineers, at a cost of about $200,000. The DOOM brand, which includes sequel games, console games, merchandise and a major motion picture, ultimately generated over $500 million in total revenue. Both of these games were created in a lean startup manner out of necessity.
Despite id's success as a small team, Co-Founder John Romero decided to quickly grow his new startup, Ion Storm. To this end, he raised $30 million, hired over 100 employees and rented the penthouse of the Texas Commerce Building, one of Dallas's most expensive office buildings.
Ion Storm's first game, Daikatana, was delivered over two years late and was as bloated and sluggish as the company that spawned it. Ion Storm ultimately racked up financial losses of $44.8 million and John Romero was eventually fired from his not-so-lean startup.
Lean To Stout
Axel Rose's first album with Guns N' Roses cost about $350,000 to create and sold in excess of 28 million copies. In contrast, songwriting and recording of Axel Rose's Chinese Democracy began in 1994, yet the album was not released until 2008. The album earned the inglorious notoriety as the most expensive collection of music ever created, costing in excess of $13 million.
Was the excessive cost and time well spent? Most fans and critics agreed that the album kinda sucked. Although it sold a couple million copies in Europe, sales in the US were a disappointing 600,000.
Along with the overwrought Daikatana, Chinese Democracy represents the antithesis of lean startup fundamentals. Founders of lean startups should avoid these mistakes by ensuring that all of their ventures, not just those which are lean out of necessity, follow lean startup principles.
Leveraging Success
Despite the Kingsmen's surprising rise from obscurity, the group was unable to leverage its success into a lasting musical career. Instead, the group broke up soon after the Louie, Louie's release. Unlike the Kingsmen, effective lean startups must build upon their initial success in order to create a lasting, self-sustaining enterprise.
Follow my startup-oriented Twitter feed here: @johngreathouse. I promise I will never tweet you about poorly produced music or tell you about that killer burrito I just ate.
Share and Enjoy