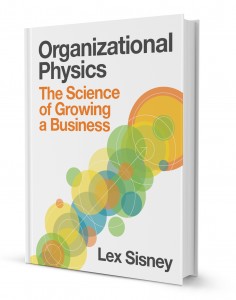 This article originally appeared on Forbes HERE.
As part of UC Santa Barbara's Distinguished Lecture Series, serial entrepreneur, CEO Coach and Author Lex Sisney shared a preview of his newly released book, Organizational Physics: The Science of Growing a Business.
As Co-Founder and CEO of Commission Junction, Lex grew the company from two employees to become the de facto leader in the world of affiliate marketing, beating Google in the process. To this day, Commission Junction remains the dominant player despite Google's significant investment of time, money and resources.
Lex's new book, Organizational Physics, is compelling, as it applies the fundamental laws of physics to the world of business. By viewing companies through this prism, one can diagnose organizational problems and identify corresponding solutions, irrespective of a company's size, the markets it serves or even the personalities of its senior executives - which makes the book a powerful toolkit for business leaders.
By applying the laws of physics to organizations, the author helps the reader, "understand how your business and team really work… (and) get at the underlying causes of what's making them fail or succeed."
If you haven't already subscribed yet,
subscribe now for free weekly Infochachkie articles!
 You can watch a 13-minute excerpt from Lex's talk below or view it directly on YouTube here: http://youtu.be/0vjsU8rH8bc The author's entire talk resides HERE.
Organizational Physics Defined
Lex defines Organizational Physics as follows: "If physics is the science of matter and energy… and management refers to principles and methods to lead organizations, Organizational Physics is the translation… between the two."
Although Lex's approach may seem unorthodox at first blush, it is actually brilliant in its simplicity. By understanding the basic laws of physics, scientists are able to study and discuss a variety of disparate substances, irrespective of their specific physical properties.
Most business books are either too industry specific to be useful to a broad audience or too general to be actionable in specific situations. Mr. Sisney avoids these literary pitfalls by establishing the Six Laws of Organizational Physics. Rather than a series of vague truisms, these laws can be applied to any organization, irrespective of its size, organizational structure or the culture in which it resides.
1. Organizations Are Adaptive Systems
Organizations are complex systems that adapt to their environment in its totality.
2. Organizations Are Subject To The First Law Of Thermodynamics
Every system has a finite amount of energy. Incremental energy is derived from the system's environment, defined in business terms as: financial capital, talented employees, partnerships, market clout, etc. When a business properly aligns its capabilities with the surrounding opportunities, incremental energy is created.
3. Organizations Are Also Subject To The Second Law Of Thermodynamics
Entropy is the process by which everything deteriorates over time. The higher an organization's entropy, the more energy it requires to simply survive.
4. Organizations Respond To Their Environment As A Whole
The author identifies four primary forces which are present within all healthy organizations: Production, Stabilization, Innovation and Unification. Understanding how these forces interact within your organization will provide you with insights as to the changes required to make your organization more effective.
5. Organizations Are Subject To Environmental Conditions – Adapters Survive
Evolution dictates that it is not the strongest organisms that survive. Rather, it is the most adaptive creatures which stand the test of time.
6. Organizations Are Subject To The Laws Of Motion – Inertia, Acceleration And Reactions Matter
An organization will tend to behave in a particular way, unless an external force causes it to change. The manner in which an organization manages its mass will determine how quickly it can execute.
Ʃ = Integration / Entropy
Lex's first book, Ready For Enlightenment, is a personal journey in which he establishes a roadmap for type-A personalities to rejuvenate their spiritual health. Although his current and prior books appear very different on the surface, I believe I found the missing link between them.
In Enlightenment, Lex notes that, "Like a leaky pipe that doesn't reveal its fissures until the water pressure is severe, it took a rapid amount of change in my life to reveal the cracks in the methods that originally brought me success." Without realizing it at the time, Lex was focusing on one of the key tenets of his current book, the concept of "entropy."
Mr. Sisney's physics-based methodology allows him to define success as a function of Integration and Entropy. In specific terms:
Ʃ = Integration / Entropy
Integration is the degree to which a particular system is able to obtain energy from its environment. An organization becomes fully integrated when it aligns its abilities with the opportunities in its surrounding environment.
Entropy represents all the energy required by the system to maintain itself, make decisions and get work done. Available energy first flows to entropy, in order to keep the system functional. Integration with the environment can only take place if there is enough energy available to the organization, after entropy is addressed. A chaotic, dysfunctional organization with high entropy will have little to no integration with its environment and will eventually perish.
Lex illustrates the applicability of this formula with a number of examples, including a hospital patient, "A patient has a finite amount of energy. All of the available energy first has to heal himself - has to keep the entropy in check or he will die. He has very little energy left over to be in integration with you." 
Another example is the decision a film director must make when considering whether or not to cast a dysfunctional, yet popular, celebrity, such as Lindsay Lohan, in their next movie. Per Lex, "Here's an actor that might get a lot of attention, give me good integration, but the entropy on the set is going to be really, really high. (The director must) … recognize that the available energy for the film has to go through the entropy before it can be successful above the line."
Hate Physics? No Problem
Did you despise physics in high school? No need to panic. Although physics is the overarching prism through which the author analyses organizational issues, no proclivity for science, math or physics is required.
If you are seeking a new perspective to help you identify the underlying issues impairing your organization's ability to achieve its strategic and financial goals, check out Organizational Physics. You may find that by unlocking the energy that is currently being used to simply keep your organization functioning, you can accomplish significantly more, without breaking a single law of physics!
Follow my startup-oriented Twitter feed here: @johngreathouse. I promise I will never tweet about rainbows, unicorns or that killer burrito I just ate.
Share and Enjoy