Coull Offers Advertisers Video Skimlinks

This article originally appeared on Forbes HERE.
As noted in YouTubers Come Of Age - Google Scores A Solid Return On Its Video Development Fund, many YouTube personalities are sensitive to the nature of the ads associated with their content. Some reject pre-roll ads because they increase the viewer abandonment rate. Others shun translucent run-of-site Google ads, because they are distracting and monetize at extremely low rates.
In addition, a number of advertisers have invested significant resources into creating libraries of video content which effectively communicate brand and product attributes but are incapable of eliciting a particular action, such as: clicking to a landing page, completing a lead form, or initiating a purchase.
Fortunately, several startups have devised tools which make it possible for content creators to maintain the entertainment integrity of their videos while embedding relevant calls-to-action. Such solutions combine the power of a video's capacity to inform with a direct response ad's ability to facilitate a desired action.
If you haven't already subscribed yet,
subscribe now for free weekly Infochachkie articles!
 Skimlinks For The Video Age
 Skimlinks is an affiliate marketing tool that allows website publishers to readily monetize their online content. For most of these publishers, their only alternative is to utilize AdSense, which is usually less lucrative and always more obtrusive.
Skimlinks has proven effective for thousands of publishers (including, for a time, Pinterest), because its frictionless, self-serve platform automatically generates revenue from previously existing online content. A similar phenomenon is now occuring within the video ad ecosystem.
What's So Cool About Coull?
Clickable Coull Ad Embedded In Video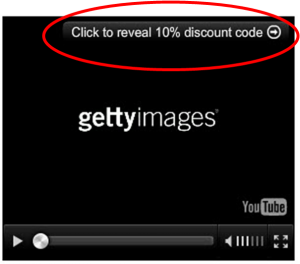 A number of startups have created compelling tools to enhance the monetization of online videos. Although no one, including me, likes ads, they are far more palitable when content and intent are aligned. For instance, if I am watching a video which contains Getty Images, I would rather see a translucent ad offering me a discount associated with the images I just viewed, rather than a random pre-roll video ad which delays my viewing experience.
A UK startup, Coull (pronounced "cool"), allows advertisers to create and embed such contextually revelvant ads within their existing video assets. The functionality and reach of Coull's platform has already won over a number of big brand advertisers, including Puma, Sears, Unilever and American Express.
I know Coull intimately, as it recently purchased RevUpNet, an online media agency which I Co-Founded with Ben Kiblinger in 2007. We agreed to join forces with Coull because we believe that the company's ability to provision and publish performance-based video ads unlocks significant latent value for both adverisers and publishers, while enhancing the typical Internet user's online experience.
Such embedded video ads are not new. In 2007, Microsoft loudly proclaimed the creation of clickable video ads. However, they were expensive to create because they required advertisers to employ full-service media agencies. Coull, allows technologically unsophisticated advertisers to create interactive video ads on a self-serve basis, effectively making it the first DIY, video performance network.
Ben Kiblinger, now Coull's North American President,  proudly shared with me that, "Coull delivers on the promised future of contextual advertising presented to me when I was an early Commission Junction employee in 1999. By solving both the technology and the distribution requirements for video to engage and track, Coull makes the dream a reality of ads being in context within video across an unlimited number of sites."
In addition to ad creation, Coull provides advertisers with an immediate outlet for such ad-enhanced video via their publisher network, which is currently 50,000 strong. This allows advertisers to offer affiliate publishers performance-based offers, which are compensated on a pay-per-view, pay-per-click or pay-per-sale basis.
In a recent discussion with Lex Sisney, author of Organizational Physics: The Science of Growing a Business and Co-founder of Commission Junction, he confirmed the potential marketing might of Coull's self-serve video ad network.  According to Lex,"The next wave of online marketing is the seamless integration of contextually relevant advertisements within the content itself. Smart advertisers and publishers will quit trying to interrupt users and instead, engage them at the point of interest. Coull's approach seems like a no-brainer and it's very exciting to watch their innovations unfold."
Another notable entrant in the self-serve video ad market, Addroid, charges advertisers nothing to create and embed video ads and collects a modest CPM (currently 15 cents) as the advertisments are served. Addroid is the ideal solution for advertisers who want to make their video assets "clickable" but do not need to create performance-based offers or leverage an existing publisher network.
Founded in 2007, GumGum has become the largest in-image ad platform. Rather than embeding ads within videos, GumGum's solution allows publishers to overlay clickable text, banners and flash ads onto static images. Like Skimlinks and Coull, GumGum's approach has generated significant value for publishers, resulting in billions of in-ad images served each month.
When asked about Coull, Ophir Tanz, GumGum's CEO candidly noted that,"GumGum believes that the future of advertising will and should be integrated. We develop products that contextually engage the user at the moment at which they are most actively engaged with a given concept. Coull's approach is in keeping with this thesis."
Stitching Content With Commerce
A small army of startups, including Skimlinks, Addroid and Coull, are focused on seamlessly blending online content with relevant commerce. While no one will ever break out in applause when they encounter an online ad, it is reassuring to know that these innovative entrepreneurs are striving to make our collective online experiences a bit less painful. Now that's Coull, very Coull indeed <sorry, I laid off the cool puns as long as I could…everyone has their breaking point ;-) >.
Share and Enjoy