This is part III of a three part series. Click here for Part I and Part II
John Fitch was first. He spent the majority of his adult life fruitlessly attempting to capitalize on the novelty and uniqueness of his invention. Unable to raise funds from wealthy individuals, he solicited $300 from a hodgepodge of small businessmen, including tavern owners, grocers and physicians.
In a matter of months, he developed technology that was superior to that created by the world's leading scientist over the prior 15-years, despite his lack of a formal education.
He debuted his technology in Philadelphia at the 1787 Constitutional Convention. It exceeded his expectations and thrilled those who witnessed it, including a number of prominent Founding Fathers. However, he was still unable to secure adequate funding to commercialize his technology.
Fitch spent the next three years traveling the country repairing clocks as a means of surviving, all the while saving money for the eventual launch his venture. In 1790, he began offering a service that eventually transformed world commerce and generated trillions of dollars of wealth. Unfortunately for Fitch, his adVenture folded 18-months after it began. 
In 1798, at the age of 55, a frustrated, destitute Fitch scrimped together enough money to purchase a handful of opium pills, which he used to end his life. His suicide note was prophetic:
"The day will come when some more powerful man will get fame and riches from my invention, but no one will believe that poor John Fitch can do anything worthy of attention."
If you haven't already subscribed yet, subscribe now for
free weekly Infochachkie articles!
First Mover Disadvantage
The alleged First Mover Advantage asserts that companies which are the first to exploit a new technology and/or market have an inherent advantage. Clearly, the allure of being first is significant. Who remembers the second man on the moon, the second person to fly an airplane or the second person to reach the North Pole? However in business, being first is often a disadvantage.
As noted Fast Followers II, fast-follower entrepreneurs must have a solid point of differentiation in order to succeed. In most instances, small companies do not have the financial wherewithal to bludgeon the competition and establish market share through brute force. Thus, it often pays to develop points of differentiation which are not based on product features. In fact, it is often more advantageous for an entrepreneurs to differentiate their offering through an alternative disruptive means.
In long-distance foot races, some teams deploy the "rabbit" strategy. A runner who has no chance of winning the race is designated as the rabbit and is instructed to set a very fast initial pace. The intent is that the runners from the opposing teams, not sure whether or not the rabbit can maintain her aggressive pace, will push themselves to keep up, while the rabbit's teammates conserve their stamina and eventually pass the rabbit and their exhausted competitors.
Many first mover companies are rabbits. Unfortunately, they do not have teammates who can win the race on their behalf. It is important to identify such rabbits in business, as well as on the racetrack, so that you do not exhaust your company's resources attempting to maintain pace with such competitors which have no chance of winning.
As discussed in Competing From The Fringe, a fast-follower strategy requires patience and ego containment. The following chart details a number of factors which determine whether you should attempt to exploit a first mover advantage or bide your time and enter the market as a fast follower.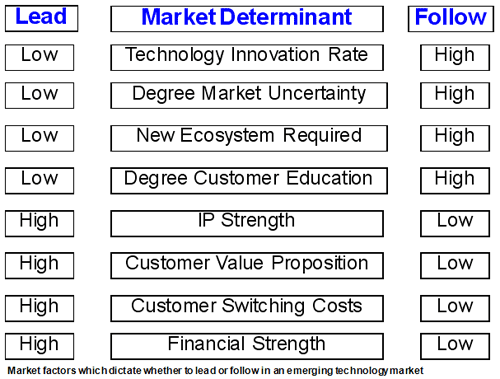 Fitch To Fulton
John Fitch's invention was the steamboat. He did not just create an esoteric, proof-of-concept prototype. Rather, during its first season, his ship travelled over 2,000 miles. In commercializing his technology, Fitch perfected the tubular boiler (some claim he and his partner outright created this invention) which decreased the weight of a conventional boiler by over 7,000 pounds. During a publicly witnessed time trial, his first steamboat travelled an astounding 8 miles-per-hour in still water.
In contrast, Robert Fulton, who had an advanced education and significant financial backing, was only able to achieve a speed of 3-miles per hour 13-years after Fitch's maiden voyage. Another 3 years later, Fulton's famous maiden voyage of the Clermont between New York and Albany traveled at less than 5-miles per hour, with a handful of passengers and no cargo. If Fitch and Fulton had raced to Albany, Fulton would have lost by 52-miles. It was not until 1812, 25-years after Fitch, that Oliver Evans, creator of the high-pressure steam engine, eclipsed Fitch's speed record, by achieving a sustained speed of 9-miles per hour.
If Fitch's technology was first to the market and was so vastly superior to that which came before (and for a long time after), why did he fail while Fulton succeeded? Some of the key factors which lead to Fast Follower Fulton's success include:
Competition – The topography of the Hudson Valley in which Fulton launched his first commuter steamboat made land travel more difficult than travel by boat. In contrast, Fitch's Delaware River Valley was relatively flat and the high-quality roads allowed land commuters to travel more quickly than those who traveled by boat. As such, Fulton's market offered consumers fewer competitive substitutes.
Technology – Unlike Fitch, Fulton did not spend his time or financial resources building a steam engine. He used his political connections to export a top-of-the line engine from England, which generally maintained a tight embargo on the exporation of its leading technologies. In addition, craftsmen and metallurgists had made significant advancement with respect to machining capabilities and mechanical materials in the 20-years after Fitch's failure.
Capital – Fulton secured adequate financial backing early in his adVenture's life, thus allowing him to focus on perfecting the then state-of-the art technology and not waste time or management attention raising money.
Pragmatism – Fulton was more skilled organizer & a better mechanical designer than Fitch. Fitch was a visionary inventor, as described more fully in Inventors vs. Innovators, while Fulton was a practical innovator.  
Theft – As Harold Evans declares in They Made America, Fulton "realized the promise of the known" by canvassing the discoveries made by others and selectively adapting them to apply to the specific requirements of water travel. In contrast, Fitch was forced to develop many of the core aspects of his technology.
Market Segmentation – Fulton capitalized on the novelty of river excursions and catered to wealthy individuals who valued their time and wanted to travel in luxury. The glamour associated with the riverboats of the late 19th century originated with Fulton's gaudy, garish accoutrements. Conversely, Fitch targeted a utilitarian market, charging 50% of comparable land travel and placing no emphasis on passenger comfort.
Corporate Structure – Fulton created an organizational structure akin to a modern corporation, with department heads reporting to him. Fitch, along with his partner, were effectively a two-man-band, carrying out all the responsibilities of the organization.
Social Optimism – Fulton expected people to like him…and they did. As described in PsyBlog's The Acceptance Prophecy, individuals who assume people will like them tend to have positive social interactions. By Fitch's own account, he was, "wretched, haughty, imperious, insolent and petulant", hardly personality traits which would result in a socially optimistic proclivity. Hudson has been described as "confident", "handsome" and "charming", traits which lend themselves to a socially optimistic outlook.
John Fitch's dying prophecy was not entirely correct. He has not been completely forgotten. Although they may not realize it, the thousands of commuters of the Philadelphia and Trenton corridor honor the inventor of the steamboat daily, as they traverse the John Fitch Parkway.
______________________
John Greathouse has held a number of senior executive positions with successful startups during the past fifteen years, spearheading transactions which generated more than $350 million of shareholder value, including an IPO and a multi-hundred-million-dollar acquisition.
John is a CPA and holds an M.B.A. from the Wharton School. He is a member of the University of California at Santa Barbara's Faculty where he teaches several entrepreneurial courses. He is also the author of an award-winning entrepreneurial blog infoChachkie.com. You can learn more about his experiences at johngreathouse.com
______________________
<
Copyright © 2007-9 by J. Meredith Publishing. All rights reserved.
Share and Enjoy