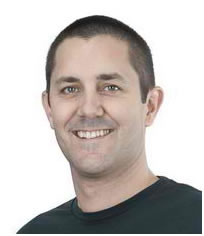 Messenger: Jason Lehmbeck, Co-Founder and CEO of DataPop, former VP of Emerging Ad Products at Overture Services and Yahoo!
Value Prop Twitter Style: DataPop simplifies the lives of marketers and gives them the tools they need to build ads that people love to click on
You can watch the video below or on YouTube here: http://www.youtube.com/watch?v=E7G5tCp08sQ
What follows is a summary which paraphrases Jason's responses. For his exact quotes, watch the video.
If you haven't already subscribed yet, subscribe now for
free weekly Infochachkie articles!
6) Jason, why does the world need DataPop?
"Because there are a lot of crappy ads out there. We started the company (because) …if you asked the average consumer what they think of the ads they see, if they see them at all, they are largely irrelevant and in many cases annoying. We started the company to make ads that people love to click on and we're doing it at scale with millions of ads per day."

5) Most great companies have inspiring Origin Stories. I am curious what drove you and your Co-Founder John Zimmerman to make the entrepreneurial leap. You guys did a lot of self-funding before you approached the venture capital community.
"The Core team had worked together at Yahoo! for seven years where we were all on the cutting edge of doing digital ad solutions. It was a typical storyline. We were working with some of the best early-adopter marketers, (who said), 'I've got this great opportunity with the Internet to deliver highly targeted ads but I don't know how to generate a million of them that are unique and compelling based on our offer set.'
We tried to solve their problems while we were at Yahoo!, but we realized to hit the problem head-on, we had to jump ship and do it in a startup environment.
The catalyst was that we saw the demand and it was confirmed by some of the leading advertisers in the marketplace. Within the first three-months of starting the company, we had our first IO and were able to fund the first year and a half of our business."
4) A lot of successful entrepreneurs Get The Band Back Together. You guys never broke up. What are the advantageous and potential disadvantages of starting a company with an existing team?
"It is like a marriage. We lived together for seven years while at Yahoo! We got to know each other, we got to know our quirks, our strengths over an extended period of time in a great environment at Yahoo!
The velocity is that much quicker in a startup environment - the highs are higher and the l
ows are lower. The trust was there before we ran into the goods and the bads, (but) we had to relearn how to work together at that higher speed."
3) To the casual observer, search might seem to be an area of Internet commerce where there is little room for improvement. However, today's search experience will no doubt seem rather rudimentary in the coming years. What changes do you anticipate during the next three-to-five years and what role will DataPop play in commercializing these innovations?
"We are only 15-years into the (search) industry. What's happened in search, there has been a great foundational layer of technology around bid management – what you are willing to pay as a marketer for a lead, but that is only one side of the equation.
When you get in front of that targeted consumer, what is it about you product that will connect with that consumer and earn their attention? The fragmentation and higher bar of attention (means that) if you don't have a compelling message, you miss out on a big opportunity.
Pre DataPop, the way advertisers delivered a compelling message was a bunch of search analysts and Excel spreadsheets trying to put together ads. They could do a halfway decent job on the first hundred keywords but most advertisers have thousands if not hundreds of thousands of keywords so they were just putting up generic ads for the rest of those keywords."
2) Part of DataPop's value proposition is your ability to tightly integrate with your partners' SKU databases, which allows you to know make, model, color and physical availability for thousands of products.
"One of the things the Internet was supposed to do for advertisers is enable real-time, highly engaging messaging. But a lot of the ads on the Internet are actually more stale than television ads. The Internet is supposed to enable the advertiser's ability to connect with a consumer with the most up-to-date, the most relevant information. But that has largely been lacking until companies like us have enabled people to do same-day and intra-day pricing and bring in new promotions across a hundred geographies on a real-time basis. And then be able to optimize with insights to really continue to drive performance for those particular marketing channels."
1) I am a huge fan of business models that are so sound they support revenue or cost sharing. DataPop has begun to share in the revenue it generates for its clients. How has the market reacted to this unorthodox, but compelling approach?
"Every advertiser loves it – in the first meeting. For companies that are more nimble and where the line between the sale and the market is pretty tight, it works phenomenally and those are our most referencable customers and they love leveraging our platforms."
At larger companies, there are more layers to go through. It takes more time because you've got more constituents that you have to get on the same page.
In the aggregate it has been a phenomenal approach that has worked really well with the large majority of our advertisers."
Share and Enjoy