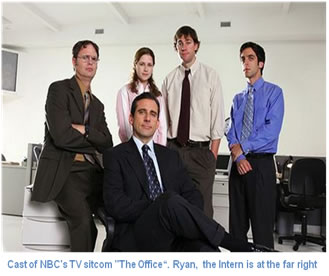 "If I had to, I could clean out my desk in five minutes... and nobody would ever know I'd ever been here. And I'd forget too."
Ryan Howard, the fictional Intern on the TV comedy, The Office
Michael Scott, the fictional head of Dunder Mifflin's Scranton office, hires an Intern for all the wrong reasons. Driven by low self-esteem, the hapless Mr. Scott is seeking a junior person who will adore him and act upon his whims.
Unfortunately for Mr. Scott, he hires Ryan, a smart, ambitious and disrespectful young man who is the catalyst of endless subterfuge which further undermines the office's abysmal corporate culture. 

If you haven't already subscribed yet, subscribe now for free weekly Infochachkie articles!
Rookie Draft
There is never enough time to perform all of the outstanding tasks at the typical startup. Thus, entrepreneurs must consistently balance expanding their bandwidth via delegation with the more efficient, but non-scalable tendency to complete tasks themselves. I discuss specific tactics to facilitate such delegation HERE.
Due to their lack of practical experience, this delegation/efficiency tradeoff is especially acute with respect to hiring Interns. However, as noted in Youthful Discretion, Interns more than offset this shortcoming with their energy, passion and propensity to solve problems in non-conventional ways. For these reasons, a properly managed Intern Program can be an economical recruiting stratagem, generating a number of benefits.
Summer Fun And Mutual Profit
The mutual "try before you buy" aspect of an Internship allows both you and the prospective employee to better assess the potential fit. It also mitigates the risk associated with hiring someone who lacks a professional track record. The internship provides a window into each student's ability to transition from college into the adult world of deadlines and accountability.
As described in Beware The Consultant, startups should strive to conserve their most precious assets, time and money, by avoiding paying fees to third-party service providers, such as recruiters. Similar to public relations, recruiting at a startup should be performed in-house, except for the occasional fulfillment of senior executive positions. The growth rate of most startups justifies hiring an in-house talent coordinator. Like all startup utility players, this junior person should be responsible for a number of tasks, in addition to recruiting.
Don Charlton, Founder and CEO of the applicant tracking solution The Resumator, calls such individuals, "Deputized Hiring Managers." Recruiting is not their fulltime job, but it is an important function they perform on behalf of their startups. Assign the responsibility for orchestrating and managing your summer Intern program to one of your Deputized Hiring Managers.
At both Expertcity (creator of GoToMyPC and GoToMeeting, acquired by Citrix) and Computer Motion (NASDAQ RBOT, acquired by Intuitive Surgical), our Intern recruiting efforts were primarily focused on identifying engineering talent for subsequent full-time employment. However, many of the characteristics of our Intern Programs were also applicable to non-technical positions, as follows:
Meaningful Work – Treat your Interns as adults and magical things will happen. We insisted that our Interns produce something of value during their brief summer tenure. In several cases, we eventually productized summer Intern projects, including a mobile version of GoToMyPC which we called PocketView. Working on meaningful projects will shorten the Interns' learning curve, thereby ensuring they will reach an acceptable level of productivity soon after being hired full-time.

By giving Interns projects that matter, you can critique their performance in a real-world setting in which a deliverable must be produced in a specified timeframe. This pragmatic assessment will enhance your ability to identify which Interns will be effective contributors once they join your adVenture as a full-time employee.

Law of Large Numbers – Even when your startup is relatively small, it behooves you to hire numerous Interns. At both Expertcity and Computer Motion, we invested in outsized Intern programs. Despite the fact that both companies were comprised of about 100 – 150 employees at the time, we routinely recruited 30 to 50 Interns each summer.

Within reason, the larger your "graduating class," the greater the volume of creative ideas and the larger number of talented recruits from which you can select full-time candidates

Competition

– Make it clear that only the best Interns will be granted offers for full-time positions. This explicit competitive element will cause the high-achievers to excel. 

Integrate With University – both Expertcity's and Computer Motion's Founders were former Professors at UC Santa Barbara, which augmented our Intern hiring efforts. If you do not have a direct relationship with your local university or college, create one. Do not rely on the campus recruiting office, whose goal is to find every student a job, irrespective of their talent. Network with professors who can direct their best students to you.

At Computer Motion, we regularly allowed engineering classes to tour our facilities. This allowed the Faculty to expose their students to a real-world application of concepts discussed in the classroom, while providing us with a chance to woo future Interns. Such tours were effective because we were designing and building cutting-edge medical robots, thus there was a lot to see and touch. A number of our best employees were first exposed to Computer Motion on such tours. It was not possible to replicate this strategy at Expertcity, as a tour of an office in which people were writing software code did not have the same allure.

Team Building Fun – It is summer after all, so keep it fun. In addition to attempting to assess your Interns' talents, you are also courting them. At Expertcity, we routinely organized off-site field trips to nearby Santa Cruz Island where we conducted a variety of team-building exercises.

Invest – Frugality is a core competency at successful startups. However, consider the money spent on your Intern program an investment. In general, a well run summer Intern program will be cheaper than attempting to recruit a like number of new hires via conventional means.

University Value Prop – People pay a lot of money for the privilege of attending an institution of higher learning. Your Interns' frame-of-reference is the academic world, so facilitate the transition from the classroom by creating intellectually stimulating teams comprised of Interns and their senior counterparts within their departments and give them meaningful problems to solve as a group.

Integration Outside Home Department – Integrate your Interns into cross-disciplinary teams in order to expose them to a departmental cross-section of your full-time employees. This will assist in their onboarding process and allow them to gain a greater understanding of your company's culture. If a recruit self-identifies with the company's Core Values, the chances of an ill-fated hire are further reduced. This will also facilitate your evaluation when determining which Interns should be offered full-time positions, as you can solicit feedback from a variety of sources beyond the department in which they will be hired.
Ryan Rises To The Top
Michael Scott and his cohorts in The Office are wonderfully farcical characters. However, in the real world, Interns should not be viewed as free waitstaff who will fawn over you and retrieve your coffee. Your Team is arguably the most important asset at your startup. The Interns you recruit today are your future managers and directors – choose wisely.
Ryan the Intern eventually rises through the ranks at Dunder Mifflin and becomes Michael Scott's boss. Although clearly done for comic effect, in reality, you would be fortunate to recruit an Intern with the motivation and skills to eventually become a senior member of your team. By implementing an effective Intern program, you will greatly increase your odds of economically hiring an emotionally stable and productive version of Ryan, who can hit the ground running and thrive within your corporate culture.
Share and Enjoy