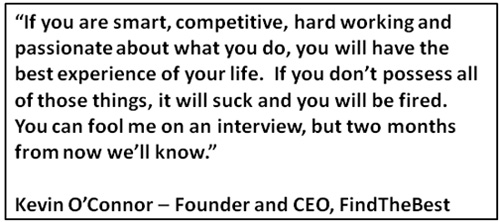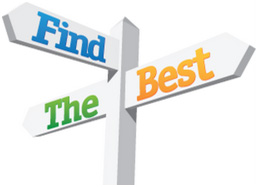 Messenger: Kevin O'Connor, Co-Founder of FindTheBest, former Co-Founder and CEO DoubleClick (sold to Google, $3.1B, seed investor ISS (sold to IBM, $1.3B), Co-Founder ICC (sold to DCA $25mm).
Value Prop Twitter Style: FindTheBest is:
"An objective, socially curated comparison engine that allows you to find a topic, compare your options and decide what's best for you."

If you haven't already subscribed yet, subscribe now for
free weekly Infochachkie articles!
10) Kevin, why does the world need FindTheBest (FTB)? 
"We all make important, complicated decisions in our life and having accurate, objective data about our choices allow us to find and compare products that meet our needs.  Unfortunately, there is so much marketing "noise" and outright scams on the Internet it is difficult to know what to trust."
9) Throughout your career, you have been drawn to huge opportunities. Clearly FTB is a major undertaking. Are you concerned that the problem FTB attempts to solve is too big? What other opportunities did you consider and discard?
"I think a year ago the size of the undertaking was my biggest concern.  Could we really build a generalize platform and assemble the data in a cost effective way?  Today, I have no doubt we can do it since we've built over 400 comparison Apps ranging to the extremes like comparing mercury levels in fish all the way to comparing fractional aircraft programs.
The biggest challenge now is, can we keep the data updated and accurate in the future.  We are now harnessing the 'social' aspect of the system where businesses and consumers begin to contribute to the data by adding or updating products listings as well as rate and review products."
8 ) Although you wrote an excellent business book (The Map Of Innovation) that is consistently well received by my UCSB entrepreneurial students, I know you are not a huge fan of most business books. With that said, what books, blogs or other resources do you recommend for emerging entrepreneurs?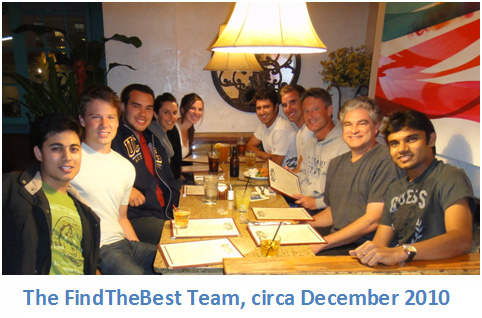 "Hmmm, I actually don't read other entrepreneurial books or blogs – except infoChachkie of course [Editor's Note: Kevin is clearly full of it here!]. This might sound a bit off, but I actually thought the movie "The Social Network," did a phenomenal job at depicting the essence a startup. For example, how Facebook evolved from other ideas and how two really simple concepts (exclusivity and relationship status) were fundamental to its success. I often tell people that it's not the hundred features in a product that makes it a homerun but rather, it often comes down to one thing and the tough part is finding that one thing. It's easy to find the other ninety-nine, which is why we all focus on it!"
7) You have hired hundreds, if not thousands of people over the years. In the early days of your companies, what techniques do you use to separate entrepreneurs from Wantrepreneurs (those who think they want to be an entrepreneur but do not have the innate skills, drive, risk profile, etc.)?
"I've always looked for "smart athletes" - people who have a native high IQ and hate to lose.  I also read them "my speech," which goes something like this: 
'If you are smart, competitive, hard working and passionate about what you do, you will have the best experience of your life.  If you don't possess all of those things, it will suck and you will be fired.  You can fool me on an interview, but two months from now we'll know.'
The real entrepreneur feels like they just found nirvana while the wantrepreneur (congratulations on creating a new word) never comes back."
 6) How do you compare the challenges you are facing at FTB with those you had to address during DoubleClick's early days?
"Back in the 'old days' of the Internet you had to do everything from scratch like build data centers, which was no fun.  Now, you can give Amazon a credit card and have any size system you need in minutes.  You can build software a lot quicker and cheaper as well.
Of course, there was so little competition back then so it easier to find uncharted territory.  Now, there are hundreds of millions of web sites and hundreds of billions of web pages.  How do you stand out?"
5) You recently raised a substantial Series A round from Kleiner Perkins, after bootstrapping for about a year. What led you to raise money now and how will you put this cash infusion to work? 
"Money was less an issue then having both consumer expertise and a network of portfolio companies we could learn from.  To be honest, I was getting really frustrated by all this talk of 'social.'  People would just say, 'you have to be social,' but when you asked them specifically what they meant, they couldn't articulate it – it was just a buzzword they were repeating.   KP was able to help us see the breadth of what social means, what was working for other companies, and how it might apply to our specific product.  We are not a social site per say but there are many social elements we have or will work into the site."
4) Kevin, in five years, what will the FTB experience look like, how will you monetize visitors and how will FTB fit into the average Internet user's day?
"The one really cool think about a consumer site is running into people that actually used FindTheBest to make a big decision.  The 'considered purchase' market is massive and we will be the trusted provider of unbiased, objective information for the consumer.  One thing I learned from DoubleClick is that 'purchase intent' is by far the most valuable data for advertising.  What better place to reach consumers who are in the final stages of making a huge purchase decision?
We're also looking at how we could extend our platform into other areas.  We've built a very sophisticated system for managing and presenting 'socially curated data.'  We think there are a number of very large opportunities we can pursue using our platform to bring more order to the internet."
3) Why the hell are you at it again? It clearly is not fame or fortune. What steered you from daily surfing back to yet another entrepreneurial journey?
"I remember a famous quote from Rockefeller which went something like this: 'Whoever thinks a million dollars is enough will never be a millionaire.'  My interpretation is that if you are only working for the money then you will likely never succeed.  I am obsessed with technology.  I would have done all of this for free.  I am fortunate that my passion resulted in creating value for our society and was rewarded for creating this value. 
A big part of me actually didn't want to do another startup because I know what it does to me.  Like I said, I get obsessed, and though a lot of good can come from an obsession a lot of bad does as well.  I try hard to find that balance."
2) If you were an emerging entrepreneur today and you had the wisdom of Kevin O'Connor circa 2010, what would you do differently, as compared to how you launched your career as a pre-Internet 22-year old back in the day?
"I really try hard to never look in the rear view mirror of life so I'm not sure I would do anything different.  The advice I give to young entrepreneurs is to create as many options in life so you'll always have choice, don't burden yourself early in life with material possessions since they limit your options, and always (always) pursue your passions."
1) The economy sucks, but you guys are hiring. What positions are you looking to fill and how can entrepreneurs get in touch with the company?
"We're looking for software engineers and App developers who typically have a degree in some quantitative and analytical field like business, economics, or math.  We have a job link at our site at:  http://www.findthebest.com/jobs-and-internships."
Liftoff: Rapid fire answers to various irrelevant questions:
Betty or Wilma? "Both"
Beer or wine? "Guinness beer and red wine.  Usually separate."
Skiing or snowboarding? "Skiing (though learning to snowboard to stay relevant)"
Stones or Beatles?  "Definitely Stones though when you combine Beatles with Cirque de Soleil for the show 'Love' it's tougher."
Would you rather lose a leg or an eye?  "I choose appendix.  But I guess an eye since they just keep getting worse…"
______________________
John Greathouse has held a number of senior executive positions with successful startups during the past fifteen years, spearheading transactions which generated more than $350 million of shareholder value, including an IPO and a multi-hundred-million-dollar acquisition.
John is a CPA and holds an M.B.A. from the Wharton School. He is a member of the University of California at Santa Barbara's Faculty where he teaches several entrepreneurial courses.
______________________
Copyright © 2007-11 by J. Meredith Publishing. All rights reserved.
Share and Enjoy