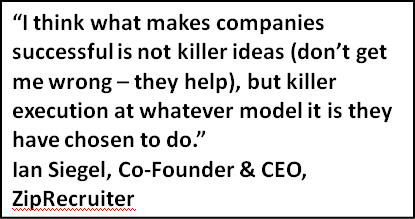 Messenger: Ian Siegel, Co-Founder |CEO ZipRecruiter, Former Executive Product and Technology roles at: MyLife, CitySearch, Stamps.com, Rent.com and Pictage
Value Prop Twitter Style: ZipRecruiter enables employers to post to multiple free job boards with one submission - the fastest way to get a job online across the web.

If you haven't already subscribed yet, subscribe now for
free weekly Infochachkie articles!
10) Ian, why does the world need ZipRecruiter? 
"I guess the simplest way to say it is that the average business doesn't like paying $375 to post a job ad on Monster or $419 on CareerBuilder.
The free job boards now generate (in aggregate) MILLIONS more job seekers per month than either of those sites, but few employers have the patience to figure out how to create an account and copy an ad across each of the free job board options.
We don't claim to have re-invented the wheel. We just made it really, really easy to get a job online across the web in a couple minutes. And we do that at a tenth of the cost of the traditional job boards."
9) In Competing From The Fringe, I caution entrepreneurs to not alert their competitors when they are making mistakes. At the risk of violating this principle, where did Monster, HotJobs and CareerBuilder go wrong?
"I think the biggest problem Monster, HotJobs, and CareerBuilder face right now is that they are charging premium prices for what is an increasingly commoditized product.
If I manage a retail store and make a new hire every month, am I going to pay $375+ per job ad? No – I'm going to use craigslist, or eBay classifieds, or Indeed.com (which is not only free, but according to Comscore the most trafficked job board on the web).
When you consider that ZipRecruiter not only hooks into those three, but a host of up and coming free job boards (SimplyHired, JuJu, Olx, Yakaz, etc…), you quickly realize that the high priced paid job board model is probably unsustainable over the long term.
The big 3 job boards will need to evolve probably into some version of free + a premium upgrade component (featured listings, cost per candidate, cost per placement, etc…) if they want to remain an option for the majority of the hiring market."
8 ) Although you have been an early member of several notable Core Teams, ZipRecruiter is the first time you are a Founder. What are the primary differences between being a Founder, versus an early Executive, and which role would you recommend to an emerging entrepreneur?

"I'll take the second half of your question first and say I strongly recommend that all would-be entrepreneurs work their way up to running their own business.
There is more to building a successful business than having a good idea. Beyond just the practical understanding of how to prioritize the things you could/should be doing, there is a set of soft skills around making a team work that I don't think you can learn if your first job is CEO.
As for the first part of your question, I would describe it like this..
Do you like learning new things at a detailed low level? Become a Founder!
If there are 10 things that make a company successful, you're only accountable for 1 - 4 of them as an executive.
As the Founder, you're either doing or involved with all 10. You spend a lot of time outside your comfort zone. There are parts of it I've greatly enjoyed, but there are some things I literally have to force myself to focus on. (Anyone want to set up a health insurance plan? How about reviewing the Commission Junction user agreement! )"
7) My favorite analogy for a great startup team is a Tribe. Just like Tribes, startups need certain skills to survive, such as: Hunter, Skinner, Shaman and Chief. Which of these roles do you primarily fulfill and do your Co-Founders cover the remaining roles?
"Well we have four co-founders…
The team voted me CEO during the incorporation process so that makes me the Chief.
Another team member was nominated the Company Secretary during that same process, and I try to use the title as frequently as possible to show respect for his office.
Beyond that we're still nailing down roles. It's fluid."
6) Social networking is impacting all aspects of business, including recruiting. What are you doing to leverage this trend and to what extent do you think it will impact online recruiting in the coming years?
"ZipRecruiter makes it trivially easy to post a job ad to your LinkedIn, Facebook, and Twitter streams, but honestly we don't spend any time marketing this capability to potential customers.
'Social recruiting' is currently a valuable tool for mid-level through senior positions or for positions requiring a specialized skill set.
But if you're trying to find waiters, or drivers, or a cashier, or call center reps, or an administrative assistant, or any of the multitude of 'service oriented' positions which make up the majority of ads posted to job boards, you're unlikely to need/leverage social networks as a recruiting tool (today).
Certainly over time the social recruiting tools will become more sophisticated (heck - I think we're tracking more than 10 companies exclusively focused on the space), but I'd guess we're at least 5+ years away from it representing a double digit percentage of how hiring is done."
5) Your adVenture has been cash positive from the outset. Do you intend to modulate growth based on organic cash inflows or do you plan to seek outside funding at some point?

"Short term it will be based off of organic cash inflow, but we're not against taking funding at some point if strategically it makes sense."
4) You initially launched ZipRecruiter as a part-time, Venturette. How did you and your Co-Founders manage to create such a profitable, thriving business in your collective spare time and what drove you to recently dive in with both feet and make ZipRecruiter your sole focus?
"I think there were two reasons why ZipRecruiter worked out.
The first was our willingness to experiment. We iterated through three different business models in the first 6 months before finding what we believe to be the sweet spot.
The second, and this may seem counter-intuitive, was the lack of time we had to work on it. With little free time to develop new features, a lot of our thinking instead went towards how to best market and monetize the product we already had. It also meant the site stayed dead simple to use which I believe is why our customers like us.
We're able to pay salaries now so going full time was a natural progression."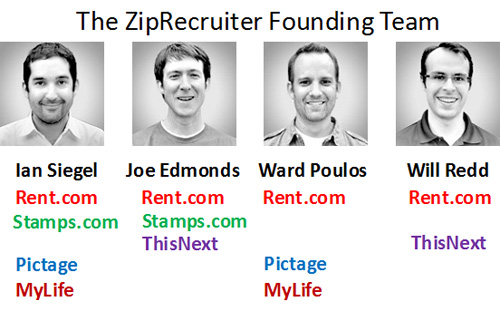 3) As noted above, you and your Co-Founders have been in the trenches together at a number of successful adVentures. Are there common themes and/or factors endemic in these successes that emerging entrepreneurs should attempt to incorporate into their future startups?
"My shortlist:
Focus on being #1 at something and be able to describe it in a sentence.
Launch the minimum viable feature set and let your customers tell you what to do next.
Build an elite team. Your headcount will be lower so stretch your budget to get people who can do more for you.
Think about making money from the beginning. "
2) Imagine you are writing a Wall Street Journal article in five years describing how ZipRecruter became the dominant online job site. What challenges and risks would you cite in such an article that you had to overcome in order to achieve your industry-leading success?
"I think what makes companies successful is not killer ideas (don't get me wrong – they help), but killer execution at whatever model it is they have chosen to do.
Rent.com was a great example of that. We disrupted major established competitors like Apartments.com, ApartmentGuide, and ForRent not by launching multiple new ways to find an apartment, but by launching one simple way that we refined and optimized for four years before we tried to do anything else.
I'd like to see ZipRecruiter operate with the same level of focus on what we do best - getting a job ad distributed across the web and getting employers candidates fast. I believe that focus will be the key to our success."
1) What sorts of Partnerships do you foresee for ZipRecruiter in the near and long-term and what is the best way for such potential partners to contact you?
"Ideally we'd like to work with other B2B SAAS businesses. Anyone interested can send a message to info @ ziprecruiter.com."
Liftoff: Rapid fire answers to various irrelevant questions:
Vampire or werewolf?  "Nice try John. You almost got me."
Chess or checkers?  "Chess"
Facebook or LinkedIn?  "Friendster – I like being connected to everyone still using the service."
 Ocean or mountains? "Oceans"
 Lady Gaga or Katy Perry? "Reviewing these questions makes me think someone has a teenage girl at home."
______________________
John Greathouse has held a number of senior executive positions with successful startups during the past fifteen years, spearheading transactions which generated more than $350 million of shareholder value, including an IPO and a multi-hundred-million-dollar acquisition.
John is a CPA and holds an M.B.A. from the Wharton School. He is a member of the University of California at Santa Barbara's Faculty where he teaches several entrepreneurial courses.
______________________
Copyright © 2007-11 by J. Meredith Publishing. All rights reserved.
Share and Enjoy