Messenger: Lynda Weinman, Co-Founder and Executive Chair, lynda.com and author of Designing Web Graphics, a world-wide bestseller, translated into 15 languages
Value Prop Twitter Style: Lynda.com is: "The best, new, online way to learn how to use your software. Search for a specific answer or learn something new from start to finish. "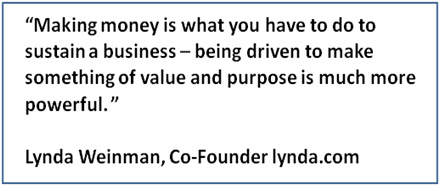 If you haven't already subscribed yet, subscribe now for
free weekly Infochachkie articles!
10) Lynda, why does the world need lynda.com?
"Today, everyone engages with computers, mobile devices, photography, movies, audio, visuals – digital skills are no longer just for the elite few, the industrial revolution has come and gone, and the idea revolution is in full force."
9) I believe that entrepreneurs who are driven by a compelling mission that is not based on making lots of money have a much higher propensity for success. Tell us a bit about lynda.com's mission and how it has impacted strategic decisions, such as raising outside funding, entering new markets, etc.
"lynda.com was born from my desire to share new technology with others. Our motivation has always been to help people learn. Making money is what you have to do to sustain a business – being driven to make something of value and purpose is much more powerful. We have never been in a hurry to make something happen more quickly than it was supposed to – there has been no reason to take on investors or enter new markets that we can't develop on our own profits and initiative."
8 ) I love the fact that you literally "wrote the book" on web design, because it was a book you wanted to read and it didn't yet exist. This clearly helped you establish credibility in the early days of lynda.com. What advice would you give an emerging entrepreneur who is looking to establish themselves as a thought leader?
"It's so easy to self publish today through blogging, making videos, contributing to forums and social networks. You have to put yourself out there to see if people respond to your ideas. The Internet will give you an immediate temperature reading as to whether people want to follow you."
7) The book Summerhill School greatly impacted you as a child. Like a true entrepreneur, even though you were young, you took control of your life and pursued an alternative education. Do you have any words of wisdom for would-be entrepreneurs who want to change their lives in a similarly drastic way, but lack the bravery to do so?
"If you don't make a change and take a risk, you are going ensure that you stay stuck. Our fears are usually more powerful than the reality of breaking through them."
6) You founded lynda.com with your husband Bruce. Although it has been a challenge, you have both successfully balanced your personal and professional lives. Would you encourage other entrepreneurs to include family members in their adVentures or would you caution them against this approach?
" It really depends on your family members. I could not work with my siblings or parents – and not every past relationship would have been conducive to our type of success – we just happened upon the right combination of personality traits and it worked. There is no set formula – you'll find as many examples of companies that are family run as not."
5) When I tell people about lynda.com, they are often surprised that there really is a "Lynda" involved in the company. Do you find there is additional pressure on you because your name is on the company's front door?
" Yes, but in a good way. Representing the company makes me proud and I think it makes me want to be a better person than if I didn't have a company named after me. I didn't name the company on purpose – I found the website first, then the company came later. Still, it's a happy accident and I am very proud of what we've accomplished."
4) When you were fifteen, you worked at a hot dog stand, making $80/month. What, if anything, did you draw from this experience as you created, grew and operated lynda.com?
" That doing something you hate makes for an unhappy life. That there is always a way to get what you want (for me, it was to pay for a private education) even when it seems like there is no possibility."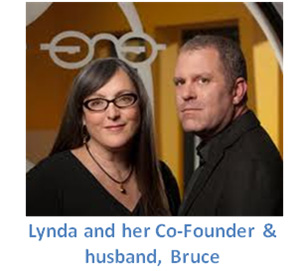 3) Imagine it is 2010 and Lynda is a 20-year old, digital native who wants to start a company. Knowing what you know now, what would you do differently from the path you took in your youth?
" I only know the path I took, and since it worked out pretty well, it's hard for me to advise others to take a different approach. I don't have any regrets or wishes that things took a different path."
2) I realize you are pouring your heart and soul into lynda.com. However, if you could wipe the slate clean and start a new company tomorrow, what would that company's mission be, what markets would you pursue and what mistakes (that you suffered through at lynda.com and otherwise) would you avoid?
" I wish I had learned to delegate sooner, and to let go a little more. I would probably enjoy teaching, running a conference, making documentaries, curating a series of lectures, writing a book or a regular blog. These are all things I could do, but I choose lynda.com right now as I can think of nothing I'd rather be doing."
1) I know that one of lynda.com's current initiatives is corporate-wide training. What are the characteristics of a company that can take full advantage of lynda.com's training resources and what is the best way for entrepreneurs to learn more about your training offerings?
"Our website is the best place to learn more about us. We have programs for companies where they can add and subtract employees, track employee's learning progress, or offer company-wide access to get everyone up to speed on all the latest software and technologies."
Liftoff: Rapid fire answers to various irrelevant questions:
X-Men or Fantastic Four? "Hello Kitty!"
Coffee or tea? "Missing coffee but calmly drinking tea"
Harry Potter or Lord Of The Rings? "Scott Pilgrim and Exit Through the Gift Shop"
Lennon or McCartney? "Beck"
______________________
John Greathouse has held a number of senior executive positions with successful startups during the past fifteen years, spearheading transactions which generated more than $350 million of shareholder value, including an IPO and a multi-hundred-million-dollar acquisition.
John is a CPA and holds an M.B.A. from the Wharton School. He is a member of the University of California at Santa Barbara's Faculty where he teaches several entrepreneurial courses.
______________________
Copyright © 2007-11 by J. Meredith Publishing. All rights reserved.
Share and Enjoy