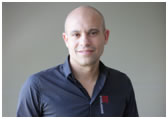 Messenger: Mark Douglas, President & CEO, SteelHouse Media. Former Vice President of Technology at eHarmony and Vice President of Engineering at the Rubicon Project.
In this interview, Mark discusses how his experiences at Oracle, eHarmony and the Rubicon Project contributed to the creation of his latest venture, SteelHouse Media.

You can watch the video below or on YouTube here: http://www.youtube.com/watch?v=j_NWWtIAM68
What follows is a summary which paraphrases Mark's responses. For his exact quotes, watch the video.
Value Prop Twitter Style:  SteelHouse's Behavioral Commerce platform increases online conversions via targeted incentives based on shopper personality and behavior

If you haven't already subscribed yet, subscribe now for
free weekly Infochachkie articles!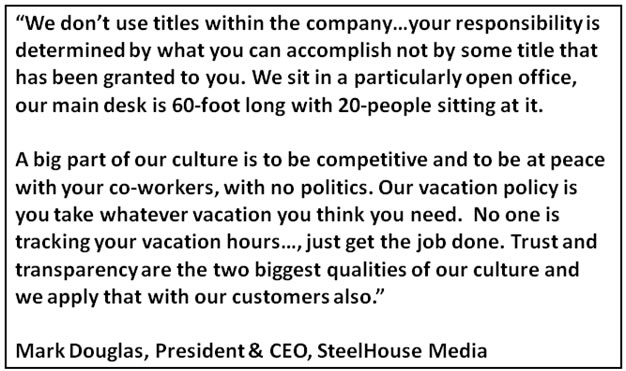 5) Mark, why does the startup world need SteelHouse? 
"Well the people who really care about us are Internet retailers (because) we help them figure out what incentive they should offer each of the shoppers on their site. Ultimately, it increases their revenue, we generate lift in their conversion rate. "
4) Did I read correctly that you were part of the original development team for Oracle Financials? Were you 12 years old at the time? How has this experience impacted the rest of your career? 
"When I joined Oracle, they were essentially 'the Google' of their time. It was my first job in Silicon Valley. The biggest thing I got was the importance of working with the absolute best and smartest people. They literally hired Olympic athletes.
I dropped out of college, but I was working with Stanford grads, Harvard grads…people who really knew how to focus, and set goals and meet goals. The whole Silicon Valley culture, I learned at Oracle."
3) How has your role as the senior Tech Leader at the Rubicon Project and eHarmony influenced SteelHouse's product roadmap and go-to-market strategy?
"There are two things I learned at eHarmony. One was (experiencing) an organization that really knew how to do marketing.
Silicon Valley is a very go with your gut community. At eHarmony, I learned the value of data and how you improve things one percent and if you just keep doing that, over and over and over again every month, but the end of the month, its twelve percent. I didn't have that appreciation when I was with companies in Silicon Valley.
The other thing I learned is how much personality affects everyone's decisions, from the most mundane to things that are really significant. If you can leverage that, you can improve the results of just about anything that you do.
Rubicon was the media business. When I joined Rubicon, they were serving 60-million ad impressions per day. Within 6-months, it was 1.2-billion ad impressions per day. Both companies (were) high-volume, scalable web infrastructures…that (has been) applied to the technology we are building."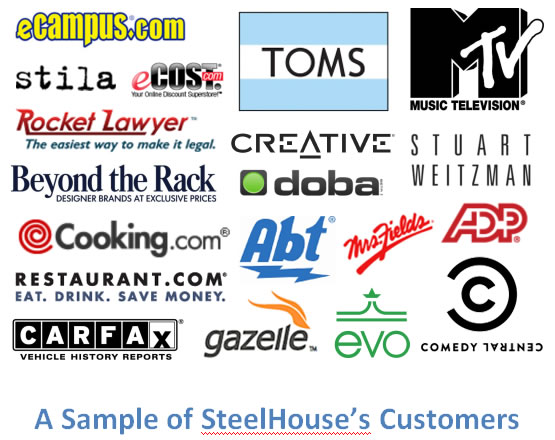 2) You recently announced the "Ten Most Common Shopping Personalities." How does SteelHouse enable its customers to leverage the existence of these various consumers?

"Our Behavioral Commerce Platform anonymously allows that web retailer, really for the first time, to have true insight into what that shopper's behavior is on their site, across one visit or multiple visits. And to leverage that (data), this is a shopper, for example, that only shops for products that are within the top 25% of price points on our (customer's) website. Or this is a person that consistently abandons on the shipping page, so obviously they are going comparison shopping for free shipping. Or this is someone who has come back multiple times in a short period of time looking at the same product, which might indicate that they are looking for a better price.


We essentially allow them to use our platform to gain insights into shopper behavior literally like they've never have had before. And then create the audience and deliver the right offer to the shoppers so they get the incentive they need to convert and the site gets the sale and a new customer."
1) Most of the company's employees work at a huge table in a large, former warehouse space. You have also hired a number of folks from eHarmony and Rubicon. Describe SteelHouse's culture and what are the characteristics of a successful SteelHouse employee?
"The culture is basically…to be completely transparent. We don't use titles within the company…your responsibility is determined by what you can accomplish not by some title that has been granted to you. We sit in a particularly open office, our main desk is 60-foot long with 20-people sitting at it.
A big part of our culture is to be competitive and to be at peace with your co-workers, with no politics. The number one thing is trust. Our vacation policy is you take whatever vacation you think you need. No one is tracking your vacation hours…, just get the job done. Trust and transparency are the two biggest qualities of our culture and we apply that with our customers also.
In a fast growing company, what someone is doing in their job today might be completely different a year ago. It is more important to hire people who learn quickly and execute well than to hire someone who is perfectly suited on their resume to a particular job."