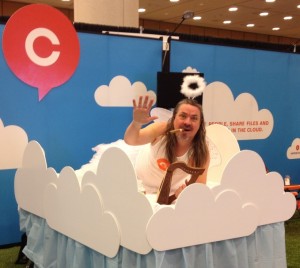 This article originally appeared on Forbes HERE.
I always enjoy a great guerilla marketing story, such as TestFlight's use of T-shirts and Tacos to gain Steve Jobs' attention at Apple's 2011 developers' conference.
Thus, I was inspired when I heard about the impact collaboration-in-the-cloud innovator Central Desktop made at the April 2012 San Francisco ad:tech conference.
Rather than hire the clichéd booth babes (which I have always found to be more than a bit sleazy), the company secured the services of a cigar-smoking, bearded angel with an exaggerated New York accent.
By adhering to the following guerilla marketing precepts, Central Desktop's scruffy angel not only grabbed the attention of the show's 8,900 attendees, he also effectively conveyed the company's unique value prop.
If you haven't already subscribed yet,
subscribe now for free weekly Infochachkie articles!
Trade Show Guerilla Marketing Done Right 
Be Closing, No Posing – The ultimate measure of effective marketing, especially at a startup, is revenue. Central Desktop scored on this count, as evidenced by the overall show's buzz, the number of concrete leads attributable to the enhanced booth traffic and the culmination of a large deal with a major account. For instance, a senior executive from a major media agency, who did not attend the show, was prompted by a bearded-booth-babe tweet to contact the company's VP of Sales. Her company has since signed a contract with Central Desktop.
At a trade show which took place a month after the booth babe's ad:tech appearance, an attendee who had a photo of the homely angel on her phone entered Central Desktop's booth and told the booth crew how impressed she was with the company's creativity. This initial, casual conversation led to a deeper discussion about the company's products. The show attendee subsequently pulled her boss into the conversation, leading to further discussions post-conference, which are still ongoing.
Be Funny, Not Offensive – Humor done well is engaging and memorable. Humor done poorly is boring and potentially distasteful. Appropriate treatment of religious subjects, such as an angel floating on heavenly clouds, requires particular aplomb.
Central Desktop's angel was amusing without alienating potential customers. The actor's over-the-top approach made it clear that the company was not mocking religion. His lines proved evocative - from "Hey, come over here. I wanna share all my information with you…in the cloud" to "If you tweet an angel good, I tweet you good, too" - as memorialized in a number of Facebook posts and tweets, including this one.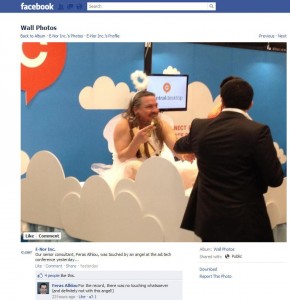 Be Economical, Not Cheap – Guerilla marketing should never be expensive and trade show guerilla marketing is no exception. Draw upon your guile, not your bank account when devising creative stunts that attract mindshare. However, do not confuse frugal with cut rate. Central Desktop's booth babe display cost less than $2,000, all in, but its execution was not chintzy.
Of the 228 exhibitors at ad:tech, Brittany Fleit, writing for Allvoices, voted Central Desktop's booth as her favorite, despite the fact that the company was outspent by nearly all the other attendees. Brittany noted, "Our favorite might be the full-grown, bearded man dressed as a baby angel, with a lyre in one hand and a cigar in the other. He yells, waves and goes out of his way to entice you into his literal bed of clouds. He's part of Central Desktop, a company that, simply, allows you to centralize your work in the cloud."
Be On Message, Not Too Clever By Half – When devising guerilla marketing campaigns, marketers can become enamored with their own cheekiness and create attention-grabbing stunts that do not support the company's underlying marketing messages. A smart-ass, street-wise angel was an effective, albeit controversial, spokesperson in this instance because, through his humor, the actor communicated the company's fundamental positioning: i.e.,"Central Desktop turns email hell into work-together heaven by bringing people and information together in the cloud."
A barometer of whether your guerilla marketing properly communicates your corporate messaging is how it is covered by the media. In the case of Central Desktop, reporter Barry Eitel highlighted the five most impactful events of the show's first day, noting that, "One of the hits of the exhibit floor had to be the scruffy middle-age guy with a pair of wings strapped to his back. He was some sort of cigar-chewing baby angel speaking the praises of Central Desktop and the Cloud. It really makes perfect sense..."<emphasis added> The fact that Barry "got it" is proof that the audacity of the angel's exploits did not overshadow the company's implicit messaging.
Be Bold, Not Stupid – Bold stupidity is not a good combination. Be unafraid but use sound judgment. Serial entrepreneur Seth Epstein is an incredible marketer. However at the 2011 Hospitality Conference, he allowed his desire to make an impact impair his reasoning when he hired a band of masked parcours. Their behavior was so bizarre and menacing that some of the show attendees thought the aggressive, ninja-clad acrobats might be terrorists, which prompted a visit by the Texas State Troopers.
I interviewed Seth about this guerilla marketing fail and asked him what he learned. He noted that entrepreneurs should not, "…expect other people to get the subtlety and nuance of your vision. The ninjas did not understand how to act or why they needed to be subtle. We provided them with our tactics, without explaining our strategy." Tactics divorced of strategy are often both bold and stupid.
Be Authentic, Not Synthetic – In a recent interview I conducted with Brad Feld, co-founder of TechStars and partner at Foundry Group, he summarized the foundation of quality marketing: "Just be you. A company has a personality. That personality is of the founders, it can't be manufactured and it shouldn't be."
Your guerilla marketing should be congruent with your company's culture. Your goal is not only to capture people's attention, but to also communicate who you are and why they should care. The bearded booth babe worked because it was consistent with Central Desktop's irreverent and lighthearted approach to solving serious collaboration challenges. In this case, the collaboration angel humorously described how the company's platform could help just about anyone connect, share and work better in the cloud.
Don't Try Too Hard
Guerilla marketing often goes awry when a company tries too hard and fails to balance unforgettable with crass. Compelling, entertaining and memorable guerilla marketing antics that do not offend your intended audience should be a natural extension of your mainstream marketing efforts. If the nuances are too subtle and your prospects cannot connect the dots between your campaign and your company's purpose, it will be ignored at best or damage your brand at worst.
Note: I am an independent member of Central Desktop's Board. However, please don't hold this fact against them.
Follow my startup-oriented Twitter feed here: @johngreathouse. I promise I will never tweet about sports, music or killer burritos – just startup stuff.
Share and Enjoy