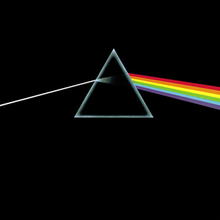 A version of this article previously appeared on Inc.
Pink Floyd's Dark Side Of The Moon album (DSOTM) only reached #1 on the US charts for a single week. However, it remained in the Top 200 for an astounding 14 years and 3 months. Despite being released in 1973, a remastered version of the album sold 800,000 copies in 2003. By 2012, total sales exceeded 50 million copies and founding band member Roger Waters was cited by Forbes as the second highest paid musician of the year, pulling in $88 million.
Entrepreneurs can learn a great deal from the manner in which Pink Floyd created DSOTM. Their deep understanding of their customers, an uncompromising drive to create a quality product and the courage to ignore the music industry's formulaic approach to producing hits resulted in the creation one of the top selling non-compilation albums of all time.
If you haven't already subscribed yet,
subscribe now for free weekly Infochachkie articles!
Business Lessons From The Dark Side Of The Moon
• Obtain Customer Feedback Before You Release Your Product - Musicians spend their entire youth writing songs and performing them in front of live audiences, which ensures that their initial album is validated by their fans before they enter the recording studio.
Unfortunately, successful musicians seldom have the luxury of market testing their subsequent albums. Instead of refining their material based on customer feedback, they often lock themselves away in a recording studio, isolated from their fans' reactions. Thus, it is no surprise that many bands suffer the sophomore jinx in which their second album fails to achieve the success of their initial release.
Pink Floyd recorded DSOTM after a year of writing and performing the material in front of live audiences. This audience feedback allowed the band to iteratively modify their creation.
Lesson: Avoid the sophomore jinx with your product launches by ignoring external pressures to take market validation shortcuts and maintaining the same game plan by which you achieved success, after you are successful.
• Get Paid to Create Your Product - Pink Floyd persuaded their fans to compensate them as they created their new material, performing the ever evolving DSOTM material for paying audiences before they recorded a single note.
Lesson: As described in Go For The Quick Buck, wily startups also devise creative ways to secure funding from their customers, rather than from investors. For instance, cloud computing leader RightScale performed consulting engagements early in the company's history in order to generate the cash required to build its initial SaaS solution.
• Respect Your Customers - Though DSOTM's themes of mortality, insanity, greed and aggression are deep, the band respected their audience's intelligence and trusted that they would "get it."
Lesson: Respect for your customers' opinions comes naturally once you establish efficient channels for gathering and evaluating their unfiltered feedback.
• Levity - There was a risk that the band's audience might have rejected DSOTM's melancholy themes. Pink Floyd averted this possibility by injecting humorous spoken responses to a series of interview questions, such as; "I don't know I was really drunk at the time" and "I am not frightened of dying. Any time will do." The working class grammar of these light-hearted phrases underscored that the band was not taking itself too seriously.
Lesson: Startups should liberally use humor as a self-deprecating tool to establish an authentic rapport with their customers.
• Passion Pivot - Pink Floyd was redefining its musical direction at the time the band recorded DSOTM. Several years prior, the band's leader, Syd Barrett, experienced a drug aggravated mental breakdown and left the band. Prior to his departure, Syd had written and sung most of the band's material.
Some musicians would have felt pressure to record hit singles to ensure the continuation of their recording contract. In contrast, Pink Floyd followed their passion and created long-form, unified musical pieces they wanted to hear, rather than the pithy, three minute singles demanded by their label's executives.
Lesson: As described more fully in How To Identify A Great Opportunity, startups should tackle problems they have encountered first-hand and are passionate about solving, rather than pursuing opportunities identified by investors and other so-called experts.
• Quality Over Hype - Paul and Linda McCartney were interviewed by the band for potential inclusion on the album. Despite the fact that including a former Beatle on DSOTM would have generated significant media interest, the band excluded Paul and Linda's comments because they were, "trying too hard to be funny." Pink Floyd's refusal to compromise DSOTM's quality in exchange for a short-term public relations boost proved to be a bold and artistically appropriate choice.
Lesson: Startups are often faced with similar PR opportunities, which offer short-term rewards but may hamstring the venture in the long term. Entrepreneurs should always err on the side of long-term gain.
Pay To Play
Entrepreneurs should unabashedly copy Pink Floyd's simple, yet effective market validation strategies. Creating your product based on your target market's reactions at every stage of the development process enables you to make bold choices with confidence, even when such decisions seem to defy conventional wisdom.
Follow my startup-oriented Twitter feed here: @johngreathouse. I promise I will never tweet about lousy music or that killer burrito I just ate.
Share and Enjoy